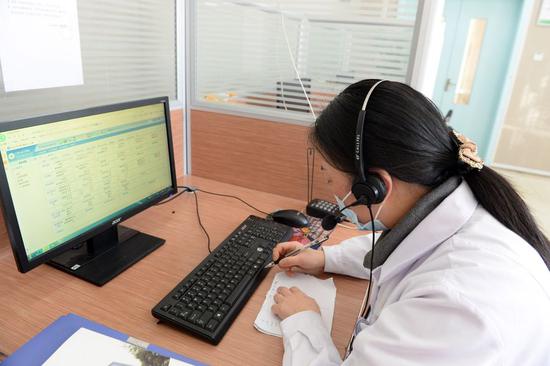 A psychologist answers a call from a citizen in Hefei, east China's Anhui Province, Jan. 31, 2020. (Xinhua/Huang Bohan)
Special: Battle Against Novel Coronavirus
Timely and comprehensive mental health services have been deployed across China in its battle against the novel coronavirus outbreak to help the public tackle epidemic trauma.
The virus had claimed more than 1,100 lives as of Tuesday on the Chinese mainland and infected over 44,000, with Wuhan, where the outbreak started, hit hardest.
ASSISTANCE AT EPICENTER
To quell people's fear of the unknown and address problems concerning the psychological health, Wuhan opened two 24-hour hotlines on Jan. 23 when the megacity was put on lockdown, with services offered by the Zhongnan Hospital of Wuhan University and the Hubei Psychological Consultant Association.
"We receive nearly 100 phone calls from the public every day on average, but only about five calls are from medical staff," said Xiao Jinsong, head of the Hubei Psychological Consultant Association.
"Most frontline medical staff are fully concentrating on their work now, almost having no time to relax, which may cover their negative emotions. Besides, some medics habitually work under high pressure, but this is not conducive to their mental health," Xiao said.
Xiao encouraged the frontline personnel to vent their negative feelings in time to calm themselves before going back to work.
In the fight against the virus, Wuhan is never alone.
The second batch of 148 Shanghai medical staff were dispatched on Jan. 28 to offer assistance in Wuhan Third Hospital. The team has set up psychological consultation rooms, consisting of psychologists and professional nurses, in their working area and the hotel they live in, to offer one-on-one mental health services to patients and medics.
"Online services are also available and those in need can reach us by scanning our QR code on WeChat," said Shi Weixiong, a member of the medical team.
"Also, experts in Shanghai can be contacted to offer online psychological assistance," Shi added.
On Feb. 4, a 55-member emergency medical rescue team from Shanghai East Hospital of Tongji University was dispatched to Wuhan. The team has launched psychological training for its team members and also provided psychological support to frontline medical staff in Wuhan.
According to Liu Zhongmin, head of the Shanghai East Hospital of Tongji University, the hospital has compiled a book about psychological self-help and rescue, more than 95,000 hard copies of which have been handed out free of charge to citizens in Hubei and Shanghai, while its electronic version can also be downloaded for free.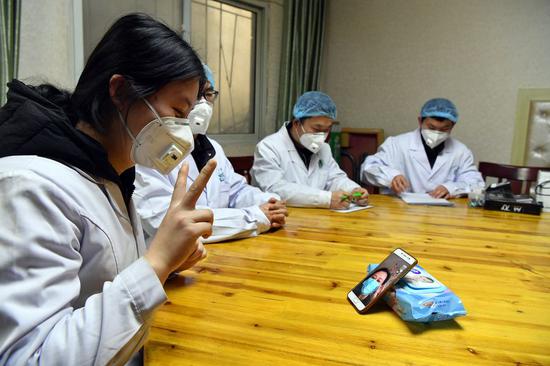 A staff member chats through video with people being treated in isolation for medical observation at a hotel, in Xinyang, central China's Henan Province, Feb. 4, 2020. (Xinhua/Li Jianan)
DEPLOYMENT ACROSS NATION
The National Health Commission has released guidelines for local authorities to promote psychological crisis intervention for patients, medical workers and people under medical observation.
China opened a mental health hotline for people who need help with psychological issues related to the epidemic, according to Beijing Normal University, which is famous for its psychology studies and began providing the service on Jan. 27.
The Ministry of Education encouraged the establishment of more such telephone- and internet-based counseling services across the country.
So far, provinces including Hubei, Shanxi, Shaanxi, Shandong, Fujian, Zhejiang, Sichuan, Jiangsu and Henan have opened psychological hotlines amid the outbreak.
Shanghai was among the first batch of cities in China to assign psychiatrists to isolation wards.
Some patients, having fears, worries, sadness and depression about the epidemic, need psychological support. There are also medics in need of help, as they work for a long time, with high pressure and guilt toward their families, said Chen Jun, an expert from the Shanghai Mental Health Center.
"A stable state of mind can help reduce irritability and agitation, which is helpful for treatment. Providing psychological counseling and appropriate medicine, psychiatry can play an important role in the battle against the epidemic," Chen said.
A psychological crisis intervention panel, consisting of 73 psychologists and psychiatrists, was set up on Jan. 30 in east China's Anhui Province, launching two 24-hour hotlines for those who are mentally affected by the epidemic.
"It is quite normal to feel anxious when there is a public health crisis. The problem will become increasingly obvious as time goes by amid this epidemic outbreak. Therefore, it is time for psychological experts to step in," said Liu Yong, a psychiatrist at Anhui Mental Health Center, where most members of the intervention panel come from.
In central China's Hunan Province, the municipal health commission of Zhuzhou released a psychological hotline on Feb. 1, with experts offering around-the-clock free services to the public every day.
"There is a process of epidemic control. It is within expectations that the number of confirmed cases is on the rise, and a turning point will only come after the peak," said Chen Xiangqing, vice president of the Third Hospital of Zhuzhou, when answering an incoming call.
Statistics show that the hotline in Zhuzhou had received more than 300 phone calls as of Tuesday.
ONLINE SUPPORT
Thanks to the rapid development of social media, many psychological aid teams have been established online, providing convenient services to those with epidemic trauma.
Wuhan University and Huazhong University of Science and Technology have set up several psychological support groups through QQ, a popular social media platform in China.
With more than 2,000 doctors offering 24-hour services, e-commerce giant JD.com started to provide psychological counseling for users on Jan. 26.
On the same day, KnowYourself, a public account on WeChat, opened a green channel for frontline medical workers, patients and their family members, hoping to help them reduce panic attacks.
The account said members of its psychological team have been receiving regular training and professional supervision, offering more than 300,000 services since 2015.
"One of my patients is confirmed with the novel coronavirus. I am aware of the high risk of infection, but I don't have time to think of myself. I am afraid of going home now because I don't want my family to be infected," read a message left on KnowYourself by a 35-year-old ICU doctor.
To help the stressed-out doctor, KnowYourself suggested multiple measures including taking deep breaths, self-hugging and meditating.
"In this special period, people are encouraged to talk and listen to each other, voicing all complicated emotions while listening to others actively and without criticism," said the account.