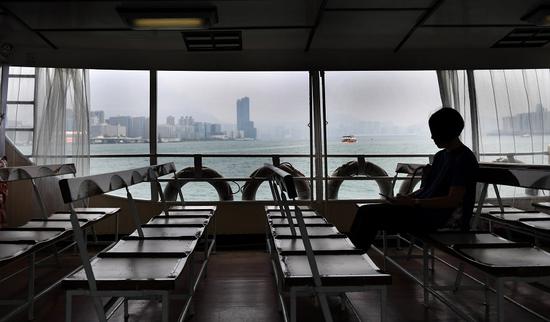 A passenger takes a ferry from Wan Chai ferry pier to Tsim Sha Tsui in Hong Kong in October. Ongoing violence has affected tourism, finance, retail, and other sectors. (Photo/Xinhua)
Key words such as "unpaid leaves" hit media headlines in Hong Kong recently as the impact of lingering violence and chaos in the Asian financial hub loomed large on service sectors such as tourism, which stand as a pillar of local people's employment.
Senior officials in the special administrative region have started working on unemployment-related issues while calling for a halt to the seven-month-long violence that has tarnished the city's global image as a paradise for businesses, travelers and shoppers.
The Hong Kong Tourism Board said on Wednesday that the number of visits to Hong Kong in the past year witnessed a year-on-year drop of 14.2 percent, standing at 55.91 million.
The number of visitors in the first six months of 2019-34.87 million-was a 13.9 percent drop year-on-year as against 21.04 million in the last six months, a 39.1 percent dip year-on-year, according to the board. And the violent protests began in June.
Yiu Kai Pang, the board's chairman, said in a release on Wednesday that "Hong Kong's tourism industry has faced exceptional challenges over the past year", and the board has already launched promotions in a number of short haul markets, including India, Indonesia, the Philippines, South Korea, and Thailand, to recoup the loss.
The prevailing situation in Hong Kong has led to a drop in the number of tourists, leading to fewer flights by leading airliners and their worsening balance sheets.
Cathay Dragon, a branch of Hong Kong-based airliner Cathay Pacific, confirmed earlier last week that it had offered unpaid leave to its cabin crew members, local media reported.
The offer should only be taken on voluntary basis, and the cabin crew are encouraged to develop other personal hobbies and maintain a balanced lifestyle, the company was quoted as saying.
Retailers are suffering as well. The Takungpao newspaper reported on Tuesday that 60 small and medium-sized shops have planned to close after the Spring Festival's shopping season, which means at least a 1,000 people would go jobless.
The Associated Press said last week that Hong Kong's economy "fell into recession" and its reputation as one of the world's safest cities was "tarnished by the violence".
Hong Kong's jobless rate from September to November was 3.2 percent, while the annual jobless rate in 2018 was only 2.8 percent.
Paul Chan Mo-po, the SAR's financial secretary, warned in a recent article that "the downward pressure on Hong Kong's economy in the coming year will be huge, and the employment situation is expected to deteriorate in the coming few months".
"While the government is committed to spending resources on developing the economy, improving people's livelihood and strengthening public services, we also have to consider our financial affordability and capability," Chan wrote on his official English blog on Jan 12.
SAR Chief Executive Carrie Lam Cheng Yuet-ngor announced a 10-measure policy package on Tuesday.
One of the measures was to offer cash subsidies-available for up to three months-for any individual starting from Apr 1 this year to Mar 31 next year. It is for those who have been jobless for more than a month and have obtained employed resident household subsidy or student subsidy before Apr 1 this year.
Another measure is to offer cash subsidies to those whose jobs cannot entirely support them.
Luo Huining, head of the Liaison Office of the Central People's Government in the Hong Kong SAR, said on Wednesday that ending violence and chaos, and restoring social order "remain the most pressing tasks for Hong Kong".
"Treasuring Hong Kong, our home, is a shared view, expectation and responsibility of all who truly care for and cherish Hong Kong", Luo said at a reception held by his office for the Spring Festival.
"Hong Kong is an affluent society, but it cannot afford to be torn apart by reckless moves. The social unrest, which began last year, has brought the Hong Kong economy into a recession, severely affecting Hong Kong residents' lives," Luo added.