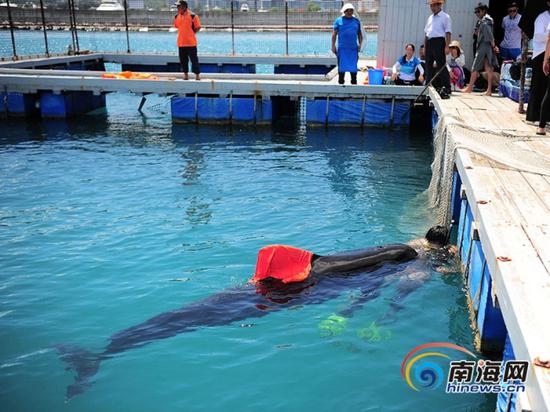 Undated photo of a volunteer looking after a stranding pilot whale, Sanya, Hainan Province. (Photo/hinews.cn)
Despite rescue attempts by locals over the course of days, a stranded pilot whale has died in Yizhou Bay in the city of Sanya in Hainan, reports hinews.cn.
The struggling whale was first discovered by local fishermen on Thursday. Despite pushing it back to sea, the whale swam back into the Bay on Friday, leading to another stranding.
Marine experts later determined the pilot whale was badly injured and in critical condition.
Word of this then prompted the Blue Ribbon Marine Protection Association to put out a plea via WeChat on Saturday looking for volunteers to assist the animal as a 2nd rescue attempt was organized.
Despite this, the animal was declared dead on Monday.