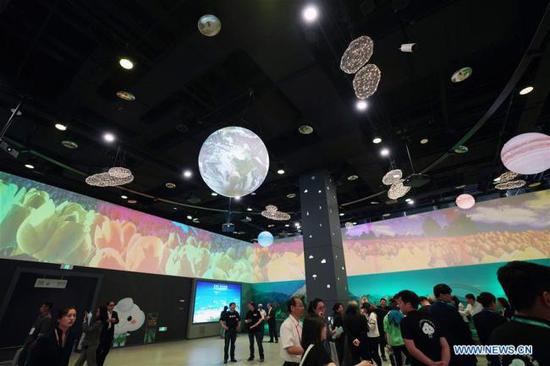 People visit ecological and meteorological house during the "World Meteorological Organization Honorary Day" theme event held as part of the Beijing International Horticultural Exhibition in Yanqing District in Beijing, capital of China, May 11, 2019. [Photo: Xinhua]
Special: Beijing int'l horticultural exhibition 2019
World Meteorological Organization (WMO) "honor day" kicked off at the ongoing International Horticultural Exhibition in Beijing Saturday.
Zhang Wenjian, assistant secretary-general of the WMO, said a majority of the natural disasters in 2018 related to extreme weather and environmental degradation, which affected nearly 62 million people.
As global warming and climate change have increasing influence on the society and economy, WMO is devoted to providing operational, accessible and authoritative information and service on the changing earth system, Zhang told a press conference on the "honor day" event.
The ecological and meteorological exhibition area at the expo was supported jointly by the WMO, China Meteorological Administration and Beijing Meteorological Service, focusing on the relationship between meteorology, horticulture and life.
The exhibition area not only interpreted how climate change closely related to human civilization but also established the eco-meteorological observing station which was capable of providing real-time observation data on meteorology.