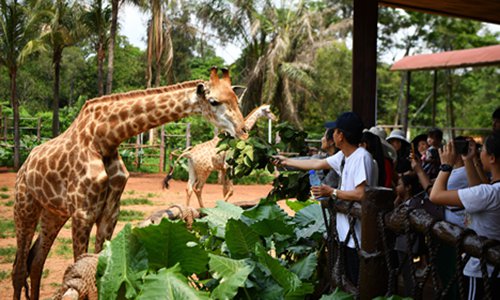 Giraffes at a zoo in South China's Hainan Province. (Photo/Xinhua)
Employees at a zoo in Southwest China are trying to figure out who and why a visitor threw nearly 10,000 yuan ($1,490) into the giraffe enclosure.
A worker at the zoo in Yunnan risked injury to retrieve a stack of 100-yuan notes, according to a video posted by China News Service on Tuesday.
Although the giraffes showed no interest in the money, they were surprised by the human in their pen.
A young giraffe skitters away, but an older one appears ready to go on the offensive.
The zoo is holding the cash hoping the person will return to claim the money and explain their motive.
The person appears to have been motivated not to get caught and seems to have purposefully moved to a blind spot in the zoo's surveillance cameras before giving the giraffes the cash.
The zoo is using the unusual incident to warn the public they should never throw objects into an animal's enclosure.