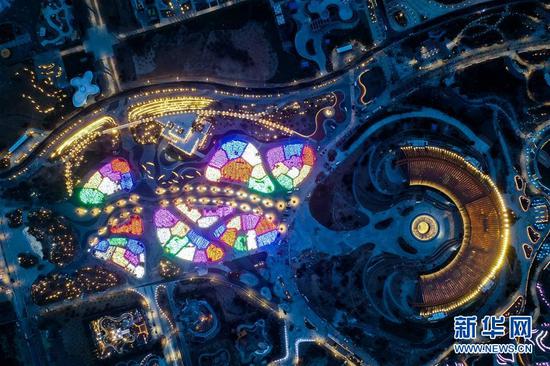 The night view of the venue for 2019 Beijing Horticultural Expo, in the Yanqing District of Beijing, China. /Xinhua Photo
Editor's note: Ma Yun is an assistant professor at the China University of Political Science and Law. The article reflects the author's view and not necessarily those of CGTN.
Nowadays, cities, representing modern civilized ways of living and production, have been turned into bustling concrete jungles.
Brand new ideas such as "Green Cities," "Sustainable Cities," "Low-carbon Cities," "Sponge Cities" and "Livable Cities" have thus emerged, each seeking to capture the key aspects of the ongoing efforts to pursue sustainable development in urban areas. One example of such efforts is the United Nations General Assembly establishing the Sustainable Development Goal 11, i.e. "make cities and human settlements inclusive, safe, resilient and sustainable," one of the 17 Global Goals set by the General Assembly in 2015.
Themed "Live Green, Live Better," the upcoming Beijing Horticultural Expo, also known as Beijing Expo 2019, will also shed light on the issue.
The expo will make its debut in the Yanqing District of Beijing at the end of April. Promoting the idea of incorporating ecological elements into urban development, it encourages people to respect and protect nature, and lead a green, low-carbon and environment-friendly life. It will not only exert influences in the cultural and commercial spheres but also provide us with an alternative way of living in urban domains to achieve sustainability.
Highlighting a "green development" strategy in its 13th Five-Year Plan (2016-2020), at the event, China will convey the message of pursuing a new development pattern and showcase the progress the country has made in developing ecological civilization.
Modern cities are the product of large-scale industrialization dating back to the 19th century. Together with the tendency of urban sprawl and the soaring number of megacities, in 2007, for the first time in the history of humanity, more than half of the world's population lived in cities.
Even though urbanization and industrialization have significantly improved our lives, they have also caused problems such as severe pollution and shortage of natural resources due to massive housing and infrastructure projects to support the growing population in urban areas. The conflict between human activity and nature has continued to intensify.
At the same time, the concept of ecologism has begun to gain momentum, along with the awakening of environmental consciousness, which abandons the old thinking that human development has to come at the expense of the environment and establishes the idea that nature is not something to be conquered and tamed but to be revered, respected and protected.
It is evident that ecologism is now integrated into urban planning and landscape architecture, as the concept of "close-to-nature" has been applied more and more widely where restoring the urban natural landscape, building city parks and reserving green spaces are the key concerns.
In this regard, traditional Chinese wisdom may have much to offer. Influenced by traditional philosophical and aesthetic thinking, Chinese gardening has long featured the ideal "harmony between nature and humankind" (tianrenheyi).
The way cities and their neighborhoods are designed and configured not only has aesthetic symbolism but also profound influence on human beings and their surroundings. The presence of urban nature, as key parts of the urban complex ecological system, is of great importance in promoting harmonization between people, environment and nature.
It contributes to the livability of modern cities and the well-being of urban dwellers in many ways including the provision of ecological services, preservation of natural landscape, habitats and biodiversity and improvement of human health in both physical and psychological senses.
Furthermore, by providing venues for outdoor recreational activities, urban green spaces may increase social integration and interactions among neighbors and therefore contribute to community building and strengthening social ties.
Ecologism also gives landscape architecture political meanings by providing civilians free access to areas that were previously only accessible for privileged social groups in society.
As broadly noted, the origin of urban parks could be traced to noble private gardens. The idea of green space in cities carries important values of public participation and actively shapes and structures the society as a whole. For example, the Central Park in New York, a model of modern city park co-designed by the father of American landscape architecture, Frederick Law Olmsted, played a significant role in bridging the gap between the rich and the poor in accessing and enjoying natural beauty.
Adopting the concept of Green Cities not only signals ideological and value shifts but also requires innovation in materials and technology. This will also be a key feature of the Beijing Expo, which places considerable weight on renewable energy and resources, eco-friendly materials and sustainable technology. All of them will help to fulfill global public expectation on this upcoming event.