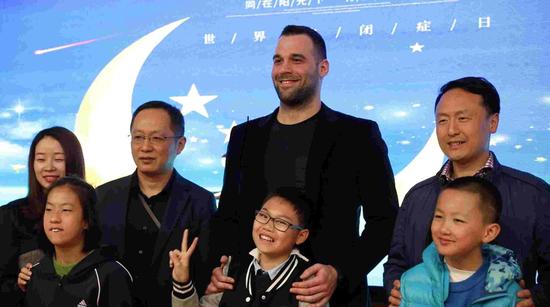 Goran Marinovic (C) poses with children and school staff at a ceremony during which he donates 100,000 yuan to Suzhou Ren'ai School to help its autistic children. /CGTN
Goran Martinovic has been living in China for five years. As a former member of the Croatian national boxing team, he never imagined he'd one day live and work in China.
He came to Suzhou four years ago to help his brother organize a boxing event. And he decided to stay, opening his own boxing gym a year later.
The boxing event that Martinovic and his brother first held in 2015 was a swell success. It has become one of Suzhou's city symbols that attracts boxers from around the world.
From once a year to twice a year, the boxing event has become more and more popular in Suzhou with great business opportunities. But so far, all the money earned from the event has been donated. Where does it go? Martinovic says he has another important mission to accomplish.
Autistic children at Suzhou Ren'ai School are the first to benefit from Martinovic's newly established charity fund named after himself. They are part of a special needs group in Suzhou that he has been helping over the past four years.
In total, 100,000 yuan, roughly 15,000 U.S. dollars, from the fund will be given to the school to improve its education facilities.
Born and bred in a country that endured a brutal civil war in the 1990s, Martinovic knows how important it is to build a healthy growing environment for children, including those with special needs.
Fan Li, principal of Suzhou Ren'ai School, says Martinovic's donation will greatly reduce their fiscal burden since they need a lot more teaching aid facilities than ordinary schools do to educate autistic children.
Suzhou Industrial Park Charity Federation which has established cooperation with Martinovic's fund also welcomes his donation as it's able to inject new vitality into the city's charity federation and persuades his foreign friends living and working in Suzhou to be part of the city's charity work.
However, doing charity has never been easy. The first child Martinovic worked with suffers from harelips. He entrusted a civil charity organization to manage his donation. But he found out not all his money was appropriately distributed.
That's why Martinovic has decided to start his own charity fund. He says he wants to be 100 percent sure where his money goes.
Now the very latest boxing event is about to kick off in June. Martinovic is checking out a local garden as a potential court on which to hold the competitions. He hopes to bring in a larger audience, and make more money to help more children with special needs.