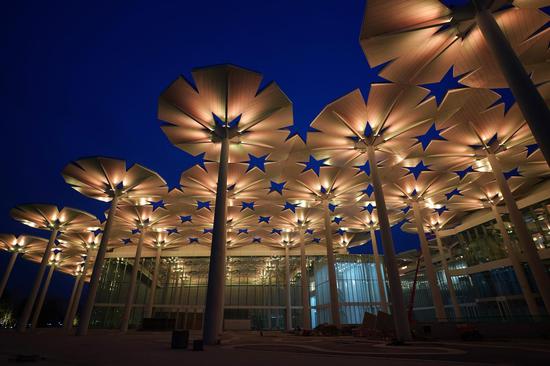 Aerial photo taken on March 26, 2019 shows the night view of International Pavilion of the International Horticultural Exhibition 2019 Beijing China (Expo 2019 Beijing) in Yanqing District of Beijing, capital of China. (Xinhua/Ju Huanzong)
Chinese firms are expected to play bigger roles than sponsorship at the upcoming 2019 Beijing International Horticultural Exhibition.
The expo has finished its sponsorship work, signing contracts worth about 1 billion yuan (148.8 million U.S. dollars) with 25 Chinese firms, including Air China and China Mengniu Dairy Company Limited, a record high sum for similar events in the field.
The firms will not only sponsor, but also serve the expo with products, services and technologies, according to a consultant for the event.
Artificial intelligence firm Baidu will build a high-tech ecology experience pavillon to highlight the importance of environmental protection, while China Telecom will showcase the country's development in 5G technology.
Slated to kick off on April 29, the 162-day expo is poised to impress an expected 16 million visitors from home and abroad, with a huge collection of plants, flowers and eye-catching pavilions, as well as ideas for green development.