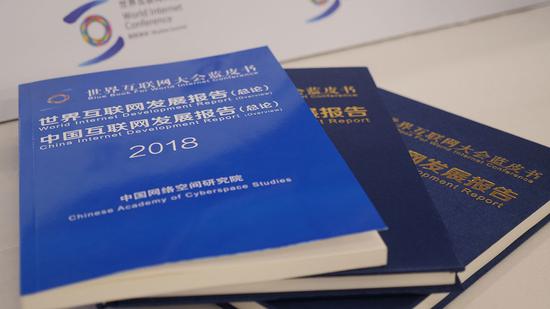 More than half of the world's population is online now, according to the World Internet Development Report released at the World Internet Conference in eastern China's water town Wuzhen on Thursday.
The 231-page report, composed by the China Academy of Cyberspace Studies, gave us a thorough view of the whole Internet in 2018 from the Chinese perspective.

Another report only concerning China was also released during the event. The 168-page blue book detailed eight aspects of achievements from infrastructure, governance to security.
Here's a general summary of the two reports:
- Faster speed: Optical fibers are becoming common among netizens while 4G is entering the mainstream.
- Making money: China and the US are the two main engines driving the digital economy forward. Semiconductors, cloud services and big data services maintained a two-digit growth rate.
- Media tech: Blockchain and VR opened a new world for global media, while fake news became a global concern.
- More threats: Network attacks and data leaks are scaling up and becoming more frequent. And governments are putting significantly more efforts to tackle them.
- Unity needed: Internet governance is turning from "political tech trouble" to "technological politics trouble." And a common ground is yet to rise.
Stay with us at CGTN, and we will bring you more details about how China sees the Internet. We will update this story as soon as we can.