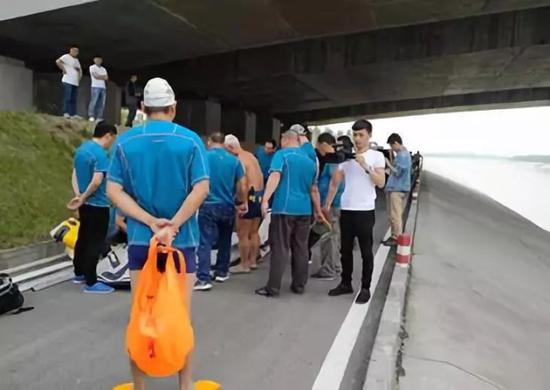 Members of the rescue team, seen here on May 12, 2018, which found the body of the Didi driver suspected of killing his female passenger in Zhengzhou, Henan Province. (Photo/huanqiu.com)
China's ride-hailing giant Didi Chuxing is to pay the reward of one million yuan ($160,000) it promised for information relating to the whereabouts of a driver suspected of killing a passenger earlier this year, reports the paper.cn.
The Didi driver, Liu Zhenhua, was accused of killing his passenger, a 21-year-old flight attendant, in Zhengzhou on May 6. The murder set off a public uproar, leading Didi, on May 10, to offer a one million yuan ($160,000) reward for information leading to Liu's capture.
On May 12, the Zhengzhou-based water rescue team found a body in a local river, which was later confirmed by DNA testing to be that of the suspect.
After several unsuccessful attempts by the rescue team to contact Didi and claim the reward, they filed a lawsuit against the company in August.
The reward money will reportedly be donated to a charity in Zhengzhou, Henan Province and dedicated to the local water rescue team that recovered the body of the suspect.
Niu Zhenxi, the head of the rescue team, said that members of his team have agreed to accept the donation via the Zhengzhou Charity Federation.
Didi has also announced that it will donate another one million yuan to the China Foundation For Justice And Courage, a national public fundraising foundation headed by China's Ministry of Public Security.
China's largest ride-hailing platform has again been subject to a barrage of criticism for the safety of its service, after another passenger of Didi hitch-hiking service was killed last month.