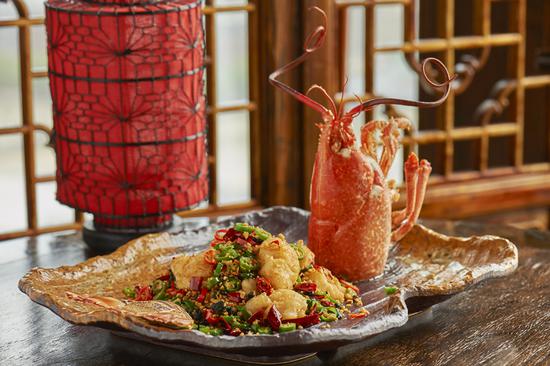 Sichuan-style deep-fried lobster, one of the specialities on offer at Hutong restaurant in London. (Photo/CHINA DAILY)
At the age of 36, while most in the restaurant trade are still learning, Wang Fei became head chef at an upmarket Chinese restaurant in one of London's most iconic buildings.
Wang believes his skills in cuisine from Sichuan province convinced the restaurant owner he was the man for the job at Hutong, which is on the 33rd floor of The Shard, the 95-story landmark that opened in July 2012.
"In 2017, when I heard Hutong needed a chef, I came over to give it a go," Wang said. "After a few cooking trials in front of the owner and regional managers, they decided to give me the job."
Born in Chengdu, the capital of Sichuan and the cradle of its cuisine, Wang had his first experience with cooking when he was 7.
"When I started primary school, my parents were very busy. As a result, I was by myself most of the time after school. So, I had to learn to be independent, including cooking for myself," he said. "After a while, I started to develop a strong interest in cooking."
He began cooking professionally when he was 16 after some work experience in a local restaurant specializing in Sichuan cuisine.
On discovering he had a natural flair for his craft, Wang began exploring the cuisine, learning about spices and traditional recipes.
His culinary career started at the Sichuan Higher Institute of Cuisine in Chengdu. Later, he moved on to train at the Sichuan Hotel and the Huayuan Hotel in the city, followed by six years as head chef at the Hong Yun restaurant.
Wang said he is inspired by diversity and is excited by the opportunity to introduce his cooking to an international clientele at Hutong.
The high-end restaurant, which opened in 2013, serves "unique" northern Chinese cuisine, but Wang said the decision to appoint a chef specializing in Sichuan cuisine as manager illustrates innovation in the trade.
"I am a trained Sichuan-style chef, and the theme of Hutong, as you might get from its name, is of a strong northern China character," he said in a reference to the narrow streets or alleys commonly associated with northern Chinese cities.
"I believe my job here is to combine the best of both northern and Sichuan cuisines. The combination itself is a kind of innovation, which I hope will bring customers a unique experience."
Wang suggests that the opening of Chinese restaurants such as Hutong is consistent with the demand.
"In the United Kingdom, for a long time traditional Chinese food has been dominated by Cantonese cuisine, but the British palate is growing, and people are becoming interested in new and interesting flavors," he said.
Wang is confident Chinese cuisine will develop further in the UK, especially that from Sichuan.
"Because of its spicy and rich taste, it stimulates the taste buds and makes diners enjoy their food," he said. However, he added that he needs to moderate the level of spice in his cooking to ensure it is not too hot for British diners.
Throughout the menu, Wang has used his skill to delicately balance punchy and fiery flavours. A number of dishes use the common frying technique that underpins much of Sichuan-style cooking.
He proudly cites Sichuan-style deep-fried lobster as his signature dish, saying it offers "an unusual, crunchy texture-crispy outside and tender inside-served with an abundance of red and green chilies and salty black beans to bring about the numb and spicy sensation in the mouth."