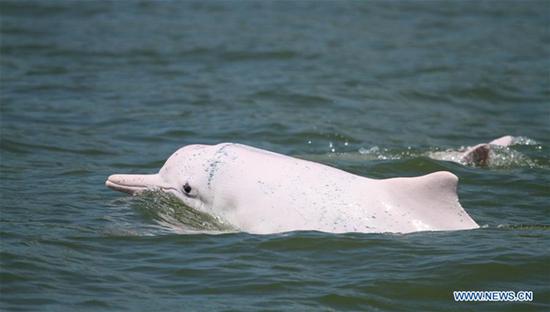 File photo shows a Chinese white dolphin at the Pearl River Estuary in south China's Guangdong Province. (Xinhua)
As the world's longest sea bridge is ready to open in China, the attention is not only fixated on the project's traffic convenience and economic benefits, but also on the life of the Chinese white dolphin, an endangered species.
The Chinese government has prioritized protection of the dolphin following the construction of the Hong Kong-Zhuhai-Macao Bridge that started in 2009. In the future, a conservation alliance will facilitate the work.
By minimizing the impact of the bridge on the dolphin, China hopes to set an example of a balance between marine development and environmental protection.
The alliance, initiated by authorities in Guangdong Province, Hong Kong and Macao, will be set up to boost cooperation among conservation groups in the three regions, according to the administration of the Pearl River Estuary Chinese White Dolphin Reserve.
The dolphin, which is under first class state protection, can be found in just a handful of coastal areas, with the Pearl River Estuary a major habitat.
Routine rescue and joint emergency rescue will be an important mission of the alliance and an expert team will be established to instruct the work. In addition, the alliance will conduct research on the dolphin's population, lifestyle, migration routes and physiology, according to Chen Hailiang, head of the administration.
Guangdong's fishery department, Hong Kong's agriculture, fisheries and conservation department, and Macao's civic and municipal affairs bureau have cooperated on protection of the dolphin since 1995.
Since 2011, researchers from Guangdong, Hong Kong and Macao have identified more than 2,300 Chinese white dolphins at the Pearl River Estuary.
IMPACT OF SEA BRIDGE
The 55-km-long bridge is situated in Lingding Bay of the Pearl River Estuary, a busy shipping channel that sees over 40,000 vessels each year. It will slash travel time between Hong Kong and Zhuhai from 3 hours to just 30 minutes.
Many domestic scholars believe that the number of the dolphins in Lingding Bay has been stable in recent years.
Chen Tao, a researcher from the South China Sea Fisheries Research Institute, tracked the dolphins at sea every month between 2013 and 2017.
"Our monitoring showed that there are 950 to 1,000 Chinese white dolphins in the part of Lingding Bay, under jurisdiction of Guangdong, during the past four to five years, compared with 1,100 to 1,200 before the construction of the bridge," he said, speculating that some dolphins that used to live in the area might have moved to other waters.