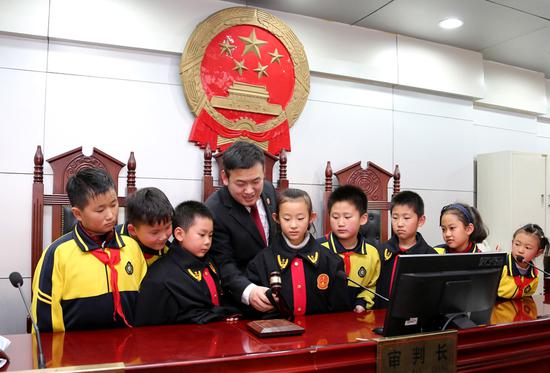 Gao Guangshi, a judge at Shizhong district court, Zaozhuang city, Shandong province, shows primary school students how he uses his gavel. Students are regularly invited to visit the court to learn about proceedings and take part in mock trials. (Photo: For China Daily/Ji Zhe)
When police in Hubei province received reports earlier this year that a 13-year-old girl had been abducted, robbed and sexually assaulted, the prime suspect-who was known to the victim-was quickly apprehended.
However, instead of leading to a full investigation and possible prosecution, the case was dropped almost immediately because the alleged attacker was age 13, below the age of criminal responsibility, meaning the police were powerless to act.
The case, which occurred in March but recently received widespread attention after the girl's mother posted details of the alleged attack on Sina Weibo, has sparked debate about how authorities should deal with young people accused of criminal acts, especially violent crime.
In a statement on June 27, police in Xiaogan, a city in Hubei, said officers were called to a suburban community at around 8 pm on March 20 after reports that a girl had been abducted by a teenager as she waited for the elevator in her residential building.
When the officers arrived, they discovered the girl on a third-floor balcony. She was rescued and taken to the hospital for treatment.
When questioned, the boy admitted threatening the girl with a pair of sharp scissors, before taking her to an unoccupied apartment on the fourth floor where he robbed her and slashed her with the scissors.
However, in a Weibo post on June 28, the girl's mother said her daughter had claimed that in addition to the scissors, the boy had two knives and a razor blade.
The girl also alleged that he had threatened her by pointing to her neck and saying, "That is the artery-if I cut it, you will die."
Police later confirmed that a pair of scissors and a razor blade had been found at the scene of the alleged crime.