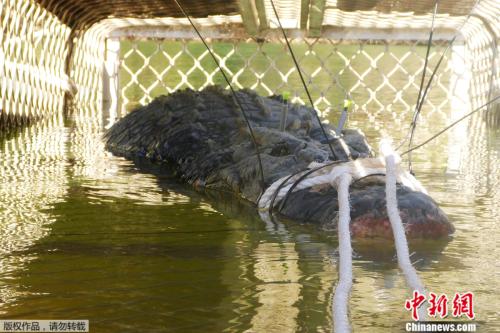 The male saltwater crocodile. (Photo/Agencies)
Park rangers in Australia's Northern Territory (NT) have caught one of the region's biggest crocodiles after a decade-long hunt.
The male saltwater crocodile measuring 4.71 meters in length and weighing in at 600 kg was trapped by rangers in the Katherine River, 320 km south of Darwin, on Monday evening.
A 2.37-meter crocodile was also caught in the river on the same day, approximately 60 km downstream of the town of 6,000 people.
Rumors of the monster crocodile have been circulated in the area since its large tail was first spotted near a local boat ramp in 2008.
NT Parks and Wildlife rangers Chris Heydon and John Burke said it was unusual to find a crocodile larger than 4.5 meters in the Katherine River system.
"We average a 4.2-meter croc most years, but never this big," Burke told Fairfax Media on Tuesday.
"Capturing more crocs downstream makes it less likely we'll find any closer to the Katherine town."
Traps were deployed in the system two weeks ago after three large crocodiles were observed during aerial surveys earlier in the year.
Once the 4.71-meter crocodile was trapped it was sedated and removed from the river.
Burke said the capture should serve as a warning against swimming in the NT.
"Although this is the biggest we've caught in the Katherine River, there are bigger ones out there that come up from the Daly River," he said.
The two captures brings the total number of saltwater crocodiles caught in the NT in 2018 to 188, seven of which have been in the Katherine River.