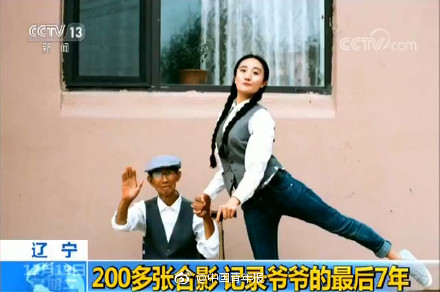 Shi poses with her grandfather. (Photo/Official Weibo account of China Youth Daily)
A group of 200 photos showing interesting interactions between a girl and her grandfather went viral online recently, sparking a lot of internet users' nostalgia for their grandparents.
Shi Mengyao, born in 1989 in Fushun, northeast China's Shenyang province, is the photographer and the granddaughter in the photos.
The idea of taking photos occurred to Shi in 2010 when she discovered that her grandfather looked frail when she came back home from a business trip after two months.
Shi was born in a single parent family and has lived with her grandparents since the age of four. Her grandmother passed away when Shi was 11.
"The image of my grandmother slowly started fading from my memory, and the only way to remember her was to look at old photos," said Shi.
But since her family did not have a camera at that time, they do not have many photos of her. This is Shi's biggest regret.
"I never learned photography. I just take pictures based on my instincts. These photos are like my diary which can remind me of the moments I spent with my grandpa."
Shi's grandfather died earlier this year. She took more than 200 pictures in seven years, including many that record mundane moments of her grandpa's life.
The group of photos named Me and Grandpa was honored as one of the winning series at the 7th Liaoning Youth Photography Awards.
For Shi, it is the photos that help her keep the most precious memories alive with her grandfather.
"I put all those words that I didn't have time to say to my grandpa into the photos."