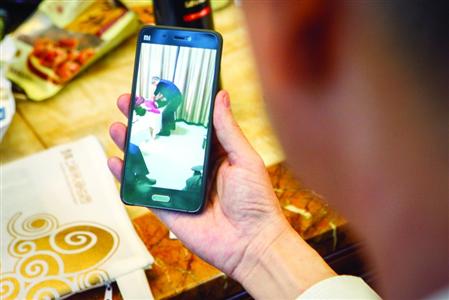 The patient's husband takes a photo of the Qigong therapy process. (Photo/Shanghai Morning Post)
A cancer patient died in 2015 despite spending 300,000 yuan (nearly 44,000 USD) on Qigong therapy in an attempt to "starve" the cancer cells. The so-called Qigong therapist has disappeared and not returned any money, reported Shanghai Morning Post on Tuesday, October 11.
At the end of last year, a 61-year-old woman, surnamed Zhang, was diagnosed with ovarian cancer. As her cancer was at the end stage, she was told it could not be cured and Zhang turned to a Qigong therapist who claimed to be able to cure any disease.
Zhang, accompanied by her husband, saw the Qigong therapist who told her the treatment would cost 300,000 yuan and had to be paid in advance. The Qigong therapist promised to cure the disease within 35 days.
She paid and accepted treatment from the therapist. The treatment included not eating, and the cancer cells would in turn starve to death. The therapist also told Zhang to stop taking pain-killers and other medical treatment.
After 39 days of only consuming ginger soups made and rubbing black ointment on her body, Zhang lost a total 10kg and felt intense stomach pain.
At the end of December last year, Zhang felt her heart intermittently stop. The Qigong therapist, frightened, advised her to resume the medical treatment. Later, the therapist was found to have disappeared without returning any money for the treatment.
The newspaper has tried to contact the Qigong therapist for a statement, but has failed several times.
Xu Feng, vice president from the research institution of Qigong in Shanghai said that some people take advantage of the lack of medical knowledge and will try to cheat them out of money. It is impossible to cure cancer by Qigong therapy.
Traditionally, Qigong (Chi Kung) means cultivating energy. It is a system practiced for health maintenance, healing and increasing vitality.