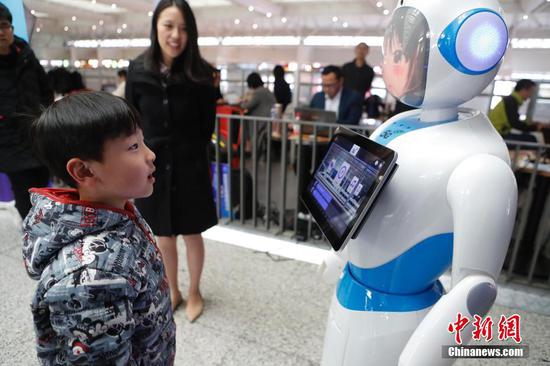 By Gao Kai
(CNS)-- Ethical governance in science and technology has received increasing attention as a global problem. It has been explored many films and works for television, including the Matrix series, the Terminator series, I, Robot and Robotech.
How can ethics in science and technology be governed effectively? If ethics is left alone, will science and technology backfire on humanity? Li Zhengfeng, a professor in the School of Social Sciences and deputy director of the Center for Science and Technology Development and Governance at Tsinghua University, answered these questions in an exclusive interview with "W. E. Talk" of China News Service.
Here is the transcript:
China News Service: The public is very concerned about ethics in science and technology. If there is no effective governance, will the fear that technology will backfire on humanity come true?
Li Zhengfeng: Governance over ethics in science and technology is becoming an increasingly important issue from a global perspective. As the development of science and technology has brought unprecedented powers to humanity and its products possess capabilities or functions far exceeding those of human beings in some ways, great risks can be posed if technology is abused.
Many works of art, movies included, are full of radical illustrations of such risks, such as high tech controlling and destroying humanity. This possibility is presented on the big screen, causing the public to pay attention to and introspect on the development of technology and its ethical issues.
Although they are artistic creations, they do bring alarm and deep thinking. If we do not control the possible consequences of technology, the so-called "new powers" may bring threats to the future survival of human beings. For instance, there are risks that the current development of biotechnology and artificial intelligence may backfire on humanity in different ways.
The term "backfire" is a more figurative expression that refers to a human action or creation that in turn harms the people themselves to varying degrees. Since the recent technological revolution, people have been guarding against the adverse effects of technologies. When the power in science and technology continues to grow, such adverse effects may be beyond the control of mankind, or even form a fundamental, global impact. Therefore, the topic of "backfire" has become a common concern worldwide.
China News Service: Since governance over ethics in science and technology is seen as a common problem worldwide, how is the West planning to approach this issue? What are the similarities and differences between the West's measures and China's?
Li: Governance over ethics in science and technology is very important, as regulated technologies and ameliorating values can lead to legitimate technological conduct.
Since the institutionalization of science in modern times, technological pioneers have been one step ahead in the in-depth development of science and technology, with faster scientific growth in the West, bringing the early warning of the possible risks brought by the development and related application. Hence earlier governance.
For example, science and technology ethics committees were first established in the 1960s in scientifically developed countries in European and America. As a more typical supervisory mechanism in the ethical governance of sci-tech, the committees mainly assess and review the ethical risks of research. If the possible ethical issues are not fully considered or the research is not approved by the ethics committee because of excessive ethical risks, the research follow-up will be duly restrained.
There has been a mature system of ethical governance from the bottom up in European and American countries at the cutting edge of sci-tech. However, there are differences in the understanding of sci-tech ethics among people in different states of development and different cultural backgrounds, and the focus and approach of governance may vary according to cultural traditions, institutional structures and social tolerance. Therefore, there are also differences in the governance system of sci-tech ethics established in each country. To some extent, what is considered the best governance mechanism in one country may not be the best in others.
China is a latecomer to science and technology, yet is rapidly catching up. With its own characteristics in terms of cultural traditions and institutional construction, China's ethical governance system in science and technology should not only respond to the social and ethical issues raised by contemporary life sciences, artificial intelligence and other emerging fields, but also adapt to the challenges the country faces at its stage of development.
China News Service: China has issued Opinions on Strengthening Governance Over Ethics in Science and Technology, the first national-level guiding document on the topic. It is another landmark event in China's ethical governance in science and technology after the establishment of the National Commission on Ethics in Science and Technology. What do you see the salient features of governance over ethics in science and technology in China?
Li: This document is important because it is closely related to the current stage of China's development on the one hand, and the challenges facing its ethical governance in science and technology on the other. Since the reform and opening-up of China, the rapid development of science and technology has led to more frequent and direct confrontation with various ethical issues in science and technology, especially cutting-edge issues.
China's proposal in 2016 to make itself a world power in science and technology is very different from the historical context in which Britain built itself into a world power in sci-tech in the 16th and 17th centuries and Germany gradually became a global giant in sci-tech in the 19th century.
Today's science and technology–life sciences and information technology included–involves more research on human beings. In contrast, scientists in the past were more likely to study mechanical motion or the inorganic world. Relatively speaking, the ethical issues raised by the development of sci-tech in the past were not as concentrated as today, while almost every step of science and technology development nowadays will face those issues. If China is to become a power in science and technology in such a context, it must be responsible in terms of ethics in science and technology.
Meanwhile, some European and American countries have had a long time to explore and improve their own ethics of sci-tech governance systems, while China's governance over sci-tech ethics started relatively late. And to establish a proven ethical governance system in a short period, the measures must be intensified; a holistic governance layout must be formed, and governing shortcomings in particular must be fixed. The issuance of Opinions on Strengthening Governance Over Ethics in Science and Technology marks a new stage in which China has truly entered a new phase of strengthening overall and comprehensive governance over sci-tech ethics.
For the ethical governance, it is necessary to shape a sense of shared responsibility. For example, how can facial recognition be used without compromising the public's privacy? As people continue to awaken to the ethical awareness of technology, there is a realistic basis of shaping such consensus.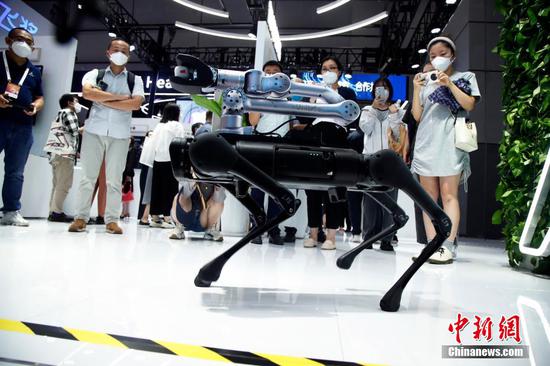 A robotic dog attracted the audience at the 2022 World Artificial Intelligence Conference held in Shanghai in September, 2022. (Photo by Tang Yanjun)
China News Service: In the context of scientific globalization, the issue of sci-tech ethics is no longer confined to a particular country or region. In this case, what challenges do you think global ethical governance is facing, and how can we deal with it together?
Li: One of the prominent challenges facing global ethical governance in science and technology is the differences brought about by the different stages of development in different countries; hence the potential ethics-dumping. Ethics-dumping refers to the fact that some scientific studies contrary to sci-tech ethical norms are difficult to conduct in countries with developed ethical governance systems, but they may be transferred to countries with weak ethical norms.
Today's ethical issues of technology have extensibility that transcends national borders and ethnic boundaries. And they requires global collaboration when it comes to biomedical technology or artificial intelligence governance and cross-border use of data. Therefore, it is important to build a mechanism of trust and collaboration for global governance over sci-tech ethics.
To achieve this goal, countries should not only formulate effective norms and systems, but also gradually establish international standards and international conventions on governance over ethics in science and technology; abolish parochial national protectionism and nationalism; establish mechanisms of trust and consultation from the standpoint of humanity's shared destiny; and integrate the wisdom and strength of different countries.
As people grow a deeper understanding of technological risk with continuous development, ethical norms are improved to match administrative controls and legal constraints. They are no longer entirely soft constraints.
Governance over sci-tech ethics is by no means meant to hinder the development of science and technology, but rather to steer its legitimate direction with obstacles removed. Meanwhile, the path of sci-tech development should be broadened so that science and technology can truly benefit humanity. And it is an important basis for countries to work together toward a global system to truly understand the significance of governance over sci-tech ethics.