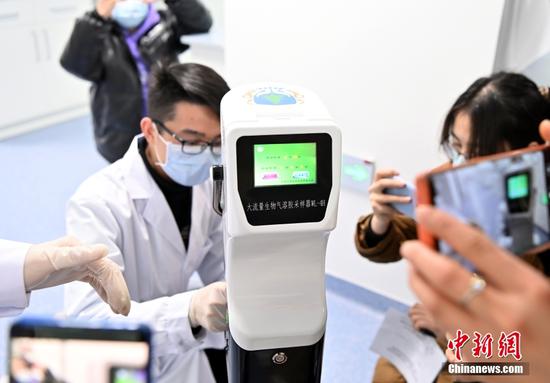 Photo shows a China-developed highly efficient bioaerosol nucleic acid detection system. (Photo/China News Service)
Special: 2022 Winter Olympics
A China-developed highly efficient bioaerosol nucleic acid detection system is expected to be used at the Beijing 2022 Winter Olympic venues. The system will contribute to smooth and safe Games amid the risks of the Omicron variant spread.
The bioaerosol detection system first takes 30 minutes to collect enough air and then takes another 45 minutes for automatic testing and issuing the test reports. The epidemic prevention and control team of the venues would be informed of the testing results within four hours from the sample collection, Liu Peng, research fellow at department of biomedical engineering of Tsinghua University, said on Tuesday.
A positive bioaerosol test generally with weak signal indicates that the venue is potentially contaminated and needs to be immediately disinfected. And if the test results still remain positive after re-evaluation, the epidemic prevention and control team would, following related protocols, take measures including disinfecting the venue and tracking down related people, Liu told the Global Times.
COVID-19 can be transmitted when someone is exposed to high concentration of SARS-CoV-2 aerosol in a relatively closed environment. Aerosol testing of high-risk environment can timely detect the possibly contaminated environment so as to prevent COVID-19 outbreaks. Research showed that the COVID-19 outbreak in Guangzhou Liwan last May was caused by aerosol transmission between two close buildings. Aerosol transmission of COVID-19 was officially recognized by the World Health Organization last year.
As the available testing methods fall short of satisfying all the requirements of aerosol testing in terms of sensitivity, short detection time and integration of sample-collecting and testing, several organizations including Tsinghua University, Peking University, Changping Laboratory and Chinese Academy of Medical Sciences jointly developed the new aerosol testing system.
The system went through clinical tests of more than 100 samples at Beijing Ditan Hospital, a designated hospital for COVID-19 patients, between April and July in 2021. The results showed that positive detection rate of the system was three times that of the existing PCR system for the same pool of aerosol samples.
The system has already been used at five Olympic venues and two designated hotels during the testing events from October to December for Winter Olympics, and 348 samples were collected and tested with a detection success rate of 100 percent, Liu said.
Similar to pooled throat samples from a group of people for PCR test, the aerosol sampling is like taking exhaled breath samples from all the people in an air space for a test. With high sensitivity of the system, we are able to detect minute number of viruses in the air sample, Yao Maosheng, a professor from Peking University and part of the team, told the Global Times.
While surface-borne transmission for COVID-19 is not the dominant route for the pandemic, it could be a "starting point" for an outbreak. As long as one person gets infected through a contaminated surface, a larger outbreak can be further triggered predominately by the aerosol route if not timely controlled, Yao said, noting the system can help detect earlier signs of such a potential outbreak by testing aerosol samples inside the Game venues, Yao said.
The system is expected to be showcased at closed venues such as hospitals, railway stations, hotels and conference rooms after the Winter Olympics, Liu said.