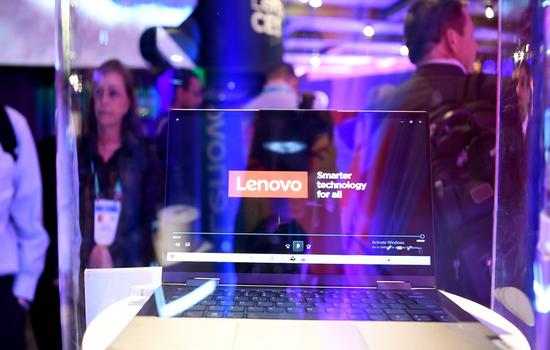 Photo taken on Jan. 8, 2020 shows the world's first 5G personal computer (PC) launched by Lenovo during the 2020 Consumer Electronics Show (CES) in Las Vegas, the United States. (Xinhua/Wu Xiaoling)
Chinese companies have launched a series of new tech products at the ongoing 2021 Consumer Electronics Show (CES), held online from Monday to Thursday.
The all-digital CES 2021 features more than 1,900 exhibitors, with 210 companies based in China, including 13 startups, Gary Shapiro, president and CEO of the Consumer Technology Association (CTA), organizer of the CES, told Xinhua.
Chinese companies, including Lenovo, TCL, Hisense, Skyworth and VVFly Electronics, participated in this year's show to build their brand and forge global partnerships.
Lenovo launched a new portfolio of connected devices, software and solutions across connectivity, mobility, entertainment, gaming, Augmented Reality (AR), remote work, AI and more.
Among the innovative products, the ThinkReality A3 new smart glasses features customized virtual displays, AR assisted workflows and 3D visualization, offering professionals and industrial workers a comprehensive digital solution.
China's leading TV manufacturer TCL introduced its latest TCL Mini LED, QLED and 4K HDR TVs, scrolling and rollable display products, high-performance audio, new mobile devices and smart home appliances under its forward-looking Artificial Intelligence and Internet of Things (IoT) strategy.
ZOSI Technology, a manufacturer headquartered in Zhuhai City, south China, focusing on video surveillance technology, unleashed its latest C302 wireless NVR security camera system, which features motion-activated spotlight and siren alarm and full-color night vision.
The new system, ideal for outdoor active deterrence surveillance, allows users to deter the intruder with spotlight and siren by setting the siren warning triggered by human movements or controlled manually from the app.
Thundercomm, a world-leading IoT product and solution provider, introduced its innovative edge computing product EB5, the first edge computing box that can support both Linux and Android operating system as well as 5G connection.
Beijing Dison Digital Entertainment Co., Ltd. which focuses on animation production, launched at the show a new Virtual Reality (VR) ski stimulator, an experience system which better people's understanding for skiing and forward the integrations of the education and VR ski experience.
China remains a top international market at the CES, Shapiro told Xinhua.
Innovation has fueled the Chinese tech market, putting China on the world stage particularly when it comes to advancements in vehicle tech, 5G, robotics and digital health, he noted.
The 2021 CES, the world's premier tech show, kicked off online Monday, the first-ever all-digital show in its 50-plus-year history.