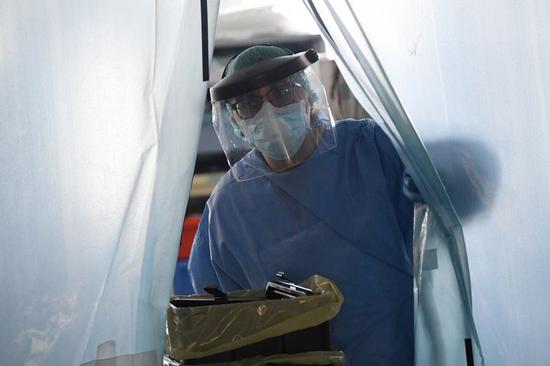 A medical worker works at Intensive Care Unit in Sant'Orsola-Malpighi hospital in Bologna, Italy, on April 15, 2020. (Photo by Gianni Schicchi/Xinhua)
Special: Battle Against Novel Coronavirus
The World Health Organization (WHO), Costa Rica and other partners on Friday officially launched a COVID-19 Technology Access Pool, an initiative aimed at making vaccines, tests, treatments and other health technologies to fight COVID-19 accessible to all.
WHO said in a press release that the Pool was first proposed in March by President Carlos Alvarado of Costa Rica and so far has been supported by over 30 countries and multiple international partners and institutions.
Speaking at a virtual media briefing on Friday, WHO Director-General Tedros Adhanom Ghebreyesus said that the COVID-19 Technology Access Pool, or C-TAP, is a sister initiative of the ACT Accelerator, another plan that WHO and partners launched a month ago to speed up the development, production and equitable distribution of vaccines, diagnostics and therapeutics for COVID-19.
"Through C-TAP, we are inviting companies or governments that develop an effective therapeutic to contribute the patent to the Medicines Patent Pool, which would then sub-license the patent to generic manufacturers," Tedros said.
He added that C-TAP is voluntary and builds on the success of the Medicines Patent Pool in expanding access to treatments for HIV and hepatitis C.
"WHO recognizes the important role that patents play in fueling innovation, but this is a time when people must take priority. Tools to prevent, detect and treat COVID-19 are global public goods that must be accessible by all people," the WHO chief noted.