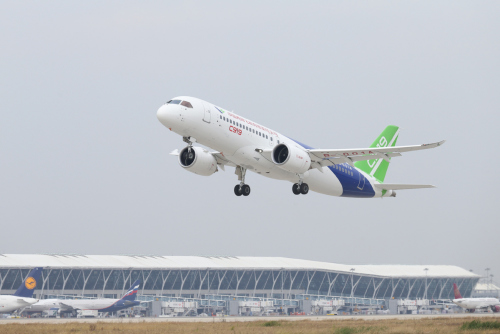 A C919 airplane takes off from the Shanghai Pudong International Airport for a test flight to Xi'an, Northwest China's Shaanxi Province, on Nov. 10, 2017. (Photo by Chen Zikuan/For China Daily)
From the National Science Conference in 1978 to the National Conference on Science and Technology in 2018, China has made some notable achievements in science and technology since its opening-up.
Space exploration
China launched Tiangong-2 in 2016. The space lab can accommodate astronauts' medium-length stay and test life-support technologies.
The country made its first step in sending a human to space in 2003, when astronaut Yang Liwei accomplished the Shenzhou-5 mission.
Home-produced aircraft
China's homegrown passenger plane C919 took off on its maiden flight in 2017. The aircraft is driving the growth of airplane materials manufacturing, electronic engineering, automation and mechanical manufacturing.
The country's latest J-20 stealth fighters were commissioned into air force combat service in February. With cutting-edge technologies, the fighter jets enable the air force to better safeguard the nation's sovereignty and national security.
Deep-sea exploration
In 2017, Chinese manned submersible Jiaolong descended to 6,699 meters in the Mariana Trench, the world's deepest point, a feat which helped scientists understand the evolution of deep-sea fish and their environmental adaptation mechanism.