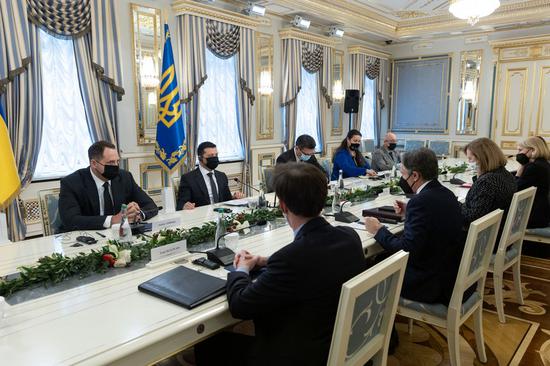 Ukrainian President Volodymyr Zelensky and U.S. Secretary of State Antony Blinken meet to discuss the security situation around Ukraine in Kiev, Ukraine, Jan. 19, 2022. (Ukrainian Presidential Office/Handout via Xinhua)
The U.S. State Department on Sunday ordered eligible family members of staff at its embassy in Ukraine to leave the country.
The State Department said in a statement that it authorized the voluntary departure of U.S. direct hire employees and ordered the departure of eligible family members from Embassy Kyiv.
"U.S. citizens in Ukraine should consider departing now using commercial or other privately available transportation options," it said.
The authorized voluntary departure applies to non-essential U.S. government employees, who now have the option to leave Ukraine if they wish, reported local media.