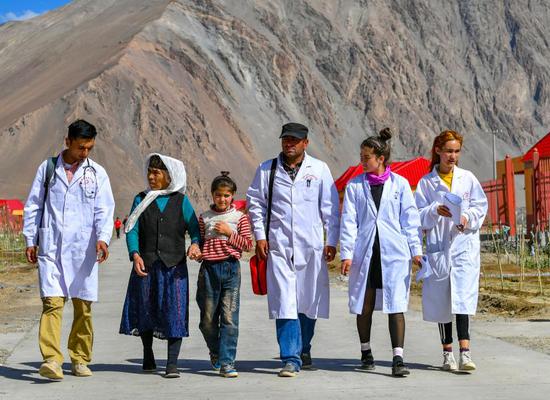 Doctors are seen on their way to provide diagnosis and treatment at the resettlement community for relocated residents of Rasekam Village in Taxkorgan Tajik Autonomous County, northwest China's Xinjiang Uygur Autonomous Region, July 7, 2019. (Xinhua/Wang Fei)
Having visited China's Xinjiang five times since 1977, Dogu Perincek, chairman of the Patriotic Party of Turkey, continued to be impressed by the new changes in the region.
"Every time I visited Xinjiang, I could see a brand-new region," Perincek said on the sidelines of an online briefing on the development of Xinjiang Uygur Autonomous Region.
He is impressed with Xinjiang's leapfrogging economic and social progress, as well as the effective protection of its diverse ethnic cultures. "Wherever you turn on TV in Xinjiang, you can find a channel showing programs in the local ethnic language."
The Turkish party leader is not alone to be awed by the changes in Xinjiang. Over 300 leaders of foreign parties and public figures from more than 80 countries and regions attended the online briefing held Monday, shared their views on Xinjiang's development, and dismissed rumors about the region once plagued by terrorism, extremism, and separatism.