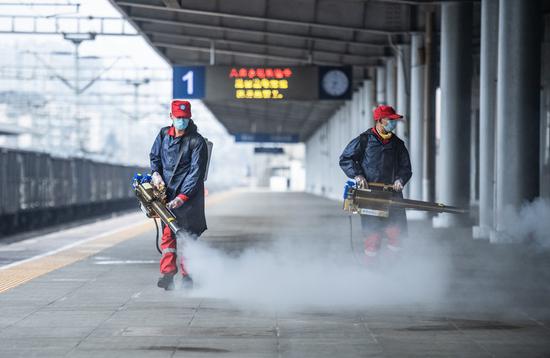 Volunteers disinfect the platform of Liupanshui Railway Station in Liupanshui, southwest China's Guizhou Province, Jan. 28, 2021. (Xinhua/Tao Liang)
Siddharth Chatterjee, the new UN Resident Coordinator in China, said the country has set a good example in epidemic prevention and control through robust public health measures centered around scientifically proven steps.
"I look forward to joining the UN family in China. We will continue to work in lockstep with the Government of China to fight COVID-19," Chatterjee said on Saturday, as he is about to complete a 21-day quarantine period after arriving in China.
With COVID-19 raging globally, Chatterjee's journey to China was rather strenuous. He was appointed the new resident coordinator in China by UN Secretary-General Antonio Guterres in December last year, tasked with leading the UN Country Team, composed of heads of all UN operating agencies, to carry out relevant development work in China.
In January, Chatterjee flew from Kenya to South China's Guangzhou to take up his new post.
"Upon arrival, I received rigorous and orderly entry screening like other overseas passengers arriving in China," Chatterjee said, jokingly adding that his new role did not bring him any "preferential treatment."
"Officials were wearing appropriate personal protective equipment, checking incoming travelers for signs and symptoms," Chatterjee recalled, adding that all overseas passengers arriving in China were directed to designated hotels to complete a 21-day quarantine period.
During quarantine, Chatterjee communicated with his new UN colleagues in China virtually, kept in touch with family through the internet, caught up on reading, writing and reflecting, and conducted fitness training. Despite experiencing quarantine for the first time, Chatterjee kept his work and life in good order.
Chatterjee said quarantine with a rigorous fitness regimen, including breathing exercises and a bit of yoga, helped keep his mind and body sharp, positively buoyant and in fine fettle. "I even managed to clock an average of 20,000 steps a day," he said.
Chatterjee deemed China's epidemic prevention system comprehensive and systematic. Before he flew to China, for example, he was clearly informed that those who take international flights to China must hold proof of negative COVID-19 nucleic acid and IgM antibody test issued no more than two days before travel.
"Later I acknowledged that these tests form just part of a comprehensive testing and tracing system found in China, which is critical to preventing future outbreaks and clusters," Chatterjee noted.
"As I have witnessed firsthand, China has set a good example in epidemic prevention and control," Chatterjee said, adding that scientifically proved, robust public health measures are most effective to prevent the spread of viruses. "Continuing to encourage wearing masks, maintaining social etiquette and observing good hygiene habits are still crucial in preventing the spread of the virus."
As the Spring Festival, or the Chinese Lunar New Year, approaches, the government has called for strict prevention and control measures in view of the complex situation of the epidemic prevention and control. Authorities have issued the stay-put policy to reduce the risk of infections during the usually busy travel season.
"I acknowledge that these responses can place strain on our happiness and well-being, but it is critical that we do not lose sight of our goal to defeat the virus," Chatterjee said.
Through simple public health measures, with adherence to science, as adopted here in China, the world can slow the spread of the virus, save lives and livelihoods and end the pandemic, he noted.