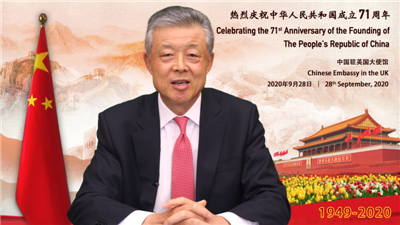 Chinese Ambassador to the UK Liu Xiaoming speaks during an online event to mark the 71st anniversary of the founding of the People's Republic of China, September 28, 2020. /China's Embassy to the UK
Chinese Ambassador to the UK Liu Xiaoming on Monday called for joint efforts from the two countries to overcome current difficulties and bring their ties back on the right track at an early date.
Delivering a speech at an online celebration of the 71st anniversary of the founding of the People's Republic of China, Liu said Beijing and London should properly manage their differences and keep bilateral relations moving in the right direction.
Relations between China and the UK have worsened over issues regarding Hong Kong and the British government's decision to bar Chinese technology company Huawei from involvement in the country's 5G networks.
"We have a thousand reasons to make this relationship successful, and not one to let it fail," the envoy stressed, describing the two countries as "mutually beneficial partners."
The UK is China's third largest trading partner and second largest investment destination in Europe, while China is the UK's third largest export market for goods, he noted.
Liu said both countries are permanent members of the United Nations Security Council and that their relationship matters to world peace and prosperity.
He called on the two countries to respect each other and maintain the political foundation of their ties, adding that China and Britain should "regard each other as opportunities rather than threats and rivals."
Meanwhile, the two sides should expand their common interests in the post-pandemic and post-Brexit era, he suggested.
"China and the UK have huge potential for cooperation in trade, investment, finance, science and technology, education, public health and other fields," he said. "Our two countries also enjoy broad prospects for cooperation in addressing global challenges such as safeguarding multilateralism, promoting free trade and tackling climate change."
The diplomat also urged the two sides to "oppose the so-called new Cold War and decoupling rhetoric" and accumulate and expand consensus so as to "build a brighter future for our two countries and for the world."