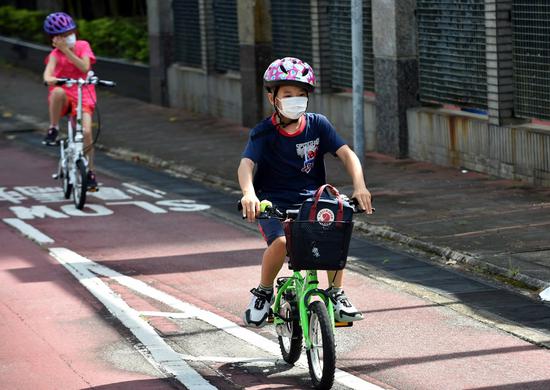 Children ride bicycles on a road in Hong Kong, south China, Aug. 10, 2020. (Xinhua/Lo Ping Fai)
Special: Battle Against Novel Coronavirus
The Hong Kong Special Administrative Region (HKSAR) government's Education Bureau announced on Monday that primary and secondary schools, and kindergartens in Hong Kong will resume face-to-face classes in two phases starting from Sept. 23.
"The epidemic has recently shown signs of subsiding, and now we have the basis to allow schools time to prepare for the resumption of face-to-face classes in the second half of September," Kevin Yeung, secretary for education of the HKSAR government, told a press briefing on Monday.
The first phase of class resumption starts on Sept. 23, when Secondary One, Five and Six and primary One, Five and Six as well as kindergarten Three can resume face-to-face classes. The second phase starts on Sept. 29, when the remaining classes can also resume face-to-face classes.
The bureau has taken into account of different factors in making the decision, such as senior classes' students have better self-care capabilities and have to prepare for public examinations. As for primary one and secondary one students, they, as newcomers, are not familiar with their new school campuses and will need more time to get used to the new learning routines, Yeung said.
Face-to-face classes will be held on a half-day basis for the time being. This is to avoid students having to take off their face masks over lunch so as to minimize infection risk, he added.
As regards class resumption for cross-boundary students, Yeung said that it involves a number of aspects, including the health protection and anti-epidemic policies between the mainland and Hong Kong, immigration control and transportation arrangements. The bureau is actively discussing with other departments and the relevant parties in the mainland, and will co-ordinate as far as practicable.