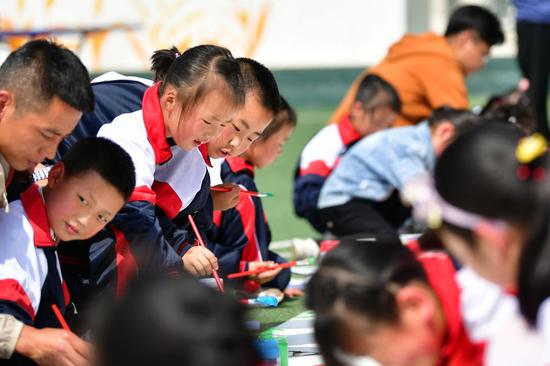 Children from Hejiazhuang primary school paint in Hejiazhuang Village of Wangba Township in Kangxian County, northwest China's Gansu Province, May 30, 2020. (Xinhua/Chen Bin)
Chinese President Xi Jinping has greeted children of all ethnic groups across the country on International Children's Day, which falls on June 1.
Xi, also general secretary of the Communist Party of China Central Committee and chairman of the Central Military Commission, called on children to study hard, firm up their ideals and convictions and develop strong bodies and minds to prepare for realizing the Chinese Dream of national rejuvenation.
Xi noted that children nationwide have experienced a special period during the country's fight against COVID-19 as all Chinese people stand united.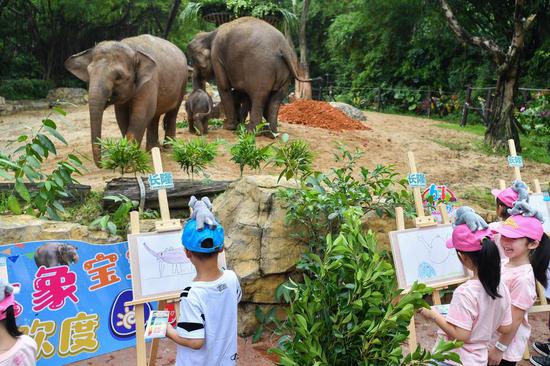 Children paint elephants at the Chimelong Safari Park in Guangzhou, south China's Guangdong Province, May 27, 2020. Two female Asian elephants gave birth to two babies respectively on April 30 and May 12 in the Chimelong Safari Park in Guangzhou, adding the total number of the Asian elephants here to 27. (Xinhua/Liu Dawei)
Witnessing the great feats of Chinese people working together and rising to challenges, the children have followed the call of the Party and the government to support the anti-epidemic battle with their concrete actions, demonstrating the fine spirit of the country's children, Xi said.
He stressed that China's children today are not only undergoing and witnessing the realization of the country's first centenary goal, they are also a new force for achieving the second centenary goal and building China into a great modern socialist country.
Xi urged Party committees and governments at all levels as well as the society to care for children and create favorable conditions for their growth.