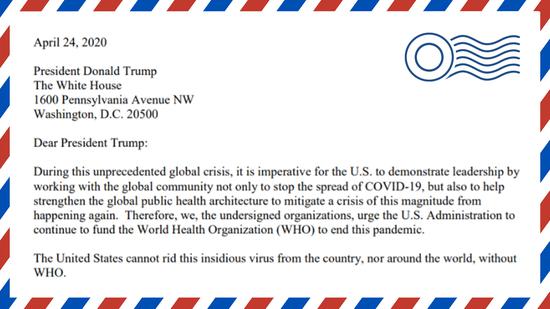 The letter to U.S. President Donald Trump. /CGTN
Special: Battle Against Novel Coronavirus
More than 1,000 organizations and individuals, including charities, medical experts and healthcare companies from around the world, have written to the White House arguing that the Trump administration should reverse course and keep funding the World Health Organization (WHO).
"The United States cannot rid this insidious virus from the country, nor around the world, without WHO," read the letter addressed to President Donald Trump, and sent to the White House on Thursday night.
"WHO is the only organization with the technical capacity and global mandate to support the public health response of all countries during this critical time."
Signatories include influential companies and groups such as the American Academy of Pediatrics, Oxfam, the Evangelical Lutheran Church in America, the American Public Health Association and the healthcare company Kaiser Permanente.
On April 14, Trump put WHO funding from the U.S. on hold and ordered a review of the body which he has accused of mismanaging the outbreak.
It is "imperative" for the U.S. to demonstrate global leadership during the pandemic, and to build up the global health architecture to prevent another pandemic, the signatories wrote.
The effort of the letter was coordinated by the Global Health Council, an international health non-profit.
"We were blown away by the response. We thought we'd gather a few hundred signatures total, but we had that within hours. It took off like a rocket. We're still getting signatures," said Loyce Pace, the president and executive director of the Global Health Council, CNN reported.
The White House did not reply to a request for comment.
The Lancet Journal also published an article titled "Why President Trump is wrong about WHO," saying that Trump's criticism of WHO was groundless.
The article detailed the timeline of WHO's public reporting about the outbreak, demonstrating the effective efforts of the organization.
"What can one conclude from this timeline? It took WHO just 4 days to inform the world about the existence of this new atypical pneumonia. It took WHO just 30 days to declare a PHEIC. President Trump's charge is therefore without foundation," the article said.
Trump's move to cut WHO funding has also prompted worldwide condemnation.
China has urged the U.S. to fulfill its obligations to the WHO, saying the fight against the virus is at a critical stage and the American decision will affect all countries, especially weak ones.
United Nations Secretary-General Antonio Guterres said it is "not the time to reduce the resources for the operations of the WHO or any other humanitarian organization in the fight against the virus."
Countries slamming Trump's decision include Russia, Iran and Germany.