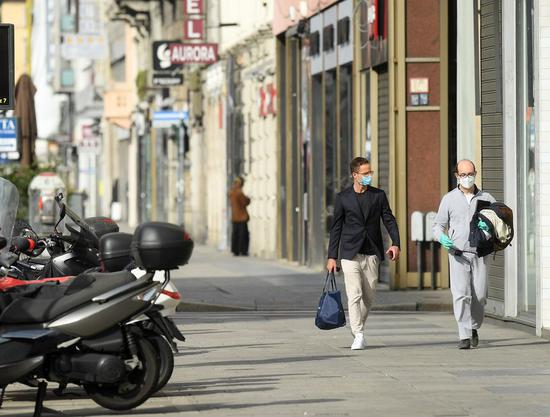 People wearing face masks walk on a street in Milan, Italy, on April 18, 2020. (Xinhua)
Special: Battle Against Novel Coronavirus
Italy is expected to gradually ease its lockdown restrictions from May 4, Italian Prime Minister Giuseppe Conte said.
Italy was put under lockdown in early March due the coronavirus pandemic.
"Then there are the needs of businesses and commercial activities to start again as soon as possible," Conte said in a Facebook post.
So far, Italy has reported 181,228 confirmed cases of COVID-19 and 24,114 deaths.
More:
Total active COVID-19 infections in Italy drop for first time, death toll rises to 24,114
The coronavirus pandemic has claimed 24,114 lives in locked-down Italy as total active infections fell for the first time since the pandemic broke out in the northern regions on Feb. 21, according to the latest data released Monday by the country's Civil Protection Department.