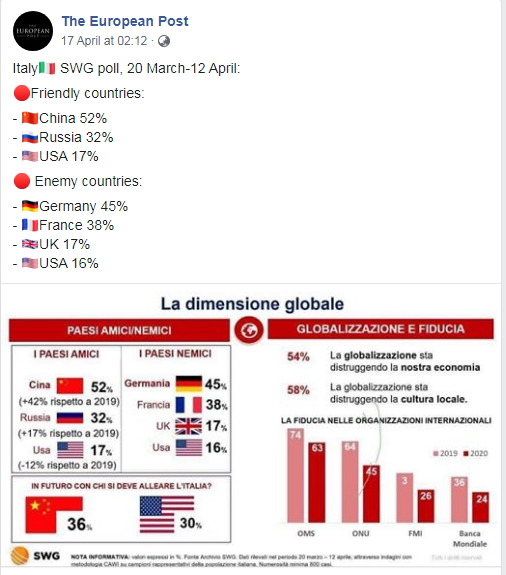 A screenshot from the Facebook account of The European Post
Special: Battle Against Novel Coronavirus
Fifty-two percent of Italians view China as a friendly country, a local poll conducted by SWG from March 20 to April 12 shows. The rate increased by 42 percent compared with last year.
Russia, with a 32 percent support rate, is second on the list of friendly countries. The U.S. is third on the list after decreasing by 12 percent to stand at 17 percent.
Regarding which country Italy should strengthen ties with in the future, 36 percent of Italians chose China, while 30 percent chose the U.S.
When the epidemic broke out in Italy, China sent more than 31 tons of medical supplies to Rome in the middle of March and medical experts were also dispatched to the country as part of China's efforts to help Italy contain the coronavirus.
Some Italians listed Germany, France, the UK and U.S. as enemy countries, with votes of 45 percent, 38 percent, 17 percent and 16 percent, respectively.
Italy felt abandoned at the start of the crisis, with European countries reluctant to share much-needed medical supplies, for which the EU Commission president offered an apology last week.
According to a poll from April 9 to April 10 by the Tecne Institute, 49 percent of the 1,000 Italians polled are in favor of leaving the EU, a 20 percent jump compared to a previous poll at the end of 2018.