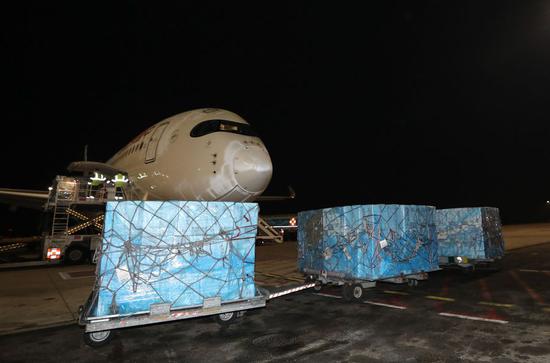 Staff members of the airport unload medical supplies from China at Fiumicino Airport in Rome, Italy, on March 12, 2020. (Xinhua/Cheng Tingting)
Special: Battle Against Novel Coronavirus
China is getting back on its feet again after the coronavirus emergency, and Italy, which is suffering the second most severe impact from the pandemic at global level, will soon be able to do the same, Italian Foreign Minister Luigi Di Maio said on Friday.
Di Maio made the remarks at a press conference held at the Italian Red Cross headquarters here alongside Chinese Ambassador to Italy Li Junhua and a Chinese expert team sent to Rome to assist in the fight against the virus.
The Chinese medical team arrived in Rome late on Thursday on a special charter flight also carrying medical equipment for intensive care and other supplies.
"Today we cannot touch each other, or stay close to each other, but we are going to learn how to smile together ... and defeat the coronavirus," Di Maio told reporters.
"Today China is getting back on its feet again after the emergency, and we will do the same soon, with the contribution of everyone," he added.
Di Maio again thanked the Chinese authorities and the Red Cross Society of China for coming to Italy's aid, and "all the experts who arrived yesterday night with tons of equipment, including ventilators."
The minister had already welcomed the Chinese initiative in the early hours of Friday, posting a video message on social media from his office.
All members of the team had been "on the frontline of the epicenter of the virus since the first day," Italian Red Cross President Francesco Rocca confirmed at the press conference.
"Speaking with Foreign Minister Di Maio yesterday, I noticed that we are used to getting in contact when our country is mobilized to donate aid abroad ... but this time we are the country receiving it," Rocca pointed out.
"I cannot deny this is a strange feeling, yet it is very nice that the first to be ready to help are the Chinese colleagues, and the Chinese Red Cross that has played its role in a very generous way."
The Chinese expert team was organized by the National Health Commission and the Red Cross Society of China. It is the third such team sent abroad by the Chinese authorities following previous missions to Iran and Iraq.
The experts left Shanghai earlier on Thursday, and all the team members and flight crew had passed health checks before boarding the plane, according to the Shanghai Municipal Health Commission.
They took with them over 700 pieces of equipment and goods, including ventilators, monitors and defibrillators.