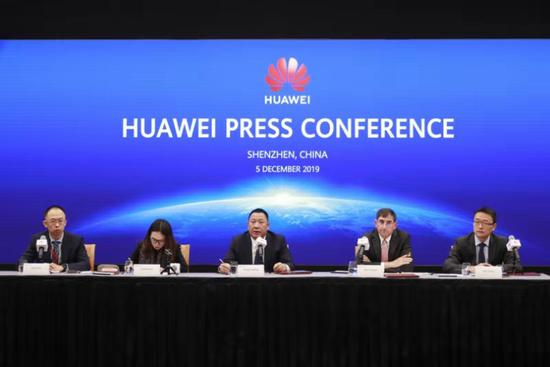 Song Liuping (middle), chief legal officer of Huawei, gives a speech in Shenzhen, Guangdong. (Provided to chinadaily.com.cn)
Chinese telecom equipment maker pursues fair treatment amid restrictions
The legal battle between Huawei Technologies Co and United States government intensified on Thursday. The Chinese tech heavyweight announced a legal challenge to the U.S. Federal Communications Commission, seeking to overturn the latter's order that bans telecom carriers from buying the company's equipment via federal subsidies.
The move is the latest push by the world's largest telecom equipment maker to pursue fair competition and treatment amid a slate of restrictions from Washington.
Analysts said the FCC ban would have very limited impact on Huawei's financial performance, but labeling the company as a national security threat would cause far-reaching reputational harm.
In a petition filed in the U.S. Court of Appeals for the Fifth Circuit on Thursday, Huawei asked the court to declare the FCC order unlawful on the grounds that it fails to offer Huawei required due process protections in labeling the Shenzhen, Guangdong province-based company a national security threat.
Song Liuping, Huawei's chief legal officer, said on Thursday that "banning a company like Huawei, just because we were founded in China — this does not solve cybersecurity challenges".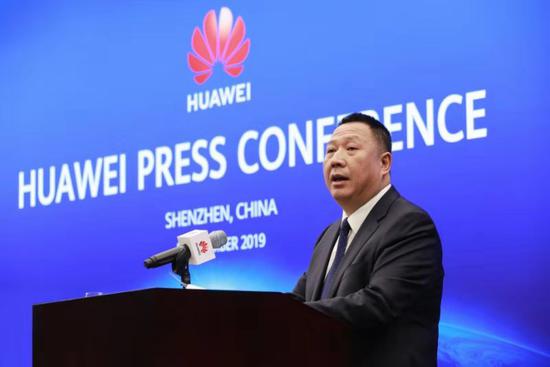 Song Liuping, chief legal officer of Huawei, gives a speech in Shenzhen, Guangdong. (Provided to chinadaily.com.cn)
The FCC voted last month to approve an order, which imposes limitations on the use of an $8.5 billion government fund to purchase equipment or services from companies including Huawei deemed a threat to national security.
Song said FCC Chairman Ajit Pai and other FCC officials failed to present any evidence to prove their claim and ignored the facts and objections raised by Huawei and U.S. rural carriers.
Huawei's products are currently used by rural telecom carriers in the U.S. to offer network and broadband services in some of the most remote regions.
Steve Berry, president and CEO of Competitive Carriers Association, a trade group for about 100 wireless providers in the U.S., said in a statement to the FCC that services provided by Huawei are almost always less expensive and can be more reliable than their market competitors.
The rule will impede innovation and harm connectivity, particularly in rural areas. Carriers will be deterred from investing in their networks and adopting new technologies, the association said.
Michael Beehn, CEO of SI Wireless, which provides mobile phone and broadband services to approximately 20,000 customers across the western portions of Kentucky and Tennessee, said, "SI Wireless's core network infrastructure is constructed with and depends on Huawei equipment." The company estimated that replacing its Huawei equipment would cost $40 million to $60 million.
The FCC move is expected to cause more losses to U.S. consumers than to Huawei, which in fact has a very limited presence in the U.S., experts said.
Song Kai, vice-president of Huawei's corporate communications department, said the company's revenue in the U.S. is negligible. It is also marginal relative to Huawei's annual $11 billion procurement of U.S. components.
"But labeling Huawei as a national security threat will result in reputational losses, and even pressure European regulators to make similar moves against the company. So Huawei must fight back with its own legal actions," said Bai Ming, a senior research fellow with the Chinese Academy of International Trade and Economic Cooperation.
This is the latest legal move by the tech behemoth to target restrictions from Washington. Huawei sued the U.S. government in March over a measure that bars federal agencies from using its products. The lawsuit is ongoing.
China's top diplomat to the European Union recently slammed U.S. Secretary of State Mike Pompeo for his disinformation campaign against China and Huawei.
Zhang Ming, head of the Chinese Mission to the European Union, said, "Despite all the witch hunts and media hype, not a single country or individual has come up with solid evidence to prove that Huawei poses a security threat."