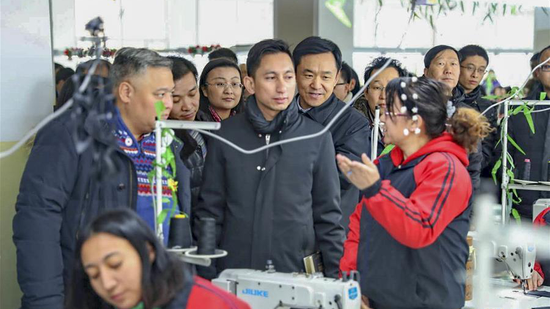 Diplomats from 12 countries visited a vocational center in Xinjiang, December 28-30, 2018. (Photo/Xinhua)
China says the joint letter sent to the UN Human Rights Council on Friday by 37 countries, including many Muslim-majority nations, was a powerful defense of the country's policies in its Xinjiang region against unfair Western criticism earlier in the week and has called for an end to using "protecting human rights" as an excuse to interfere in China's internal affairs.
"We urge relevant countries to immediately stop their unwarranted slandering and accusations against China and to put an end to further politicization and double standards," Chinese foreign ministry spokesman Geng Shuang said on Sunday.
He made the remarks at a regular press conference in Beijing while commenting on the joint letter signed by ambassadors to UN at Geneva from 37 countries, including Pakistan, Russia, Cuba, Algeria and Saudi Arabia, to show their support for China on its "remarkable achievements in the field of human rights."
The joint letter was sent to the president of the UN Human Rights Council and the UN High Commissioner for Human Rights on Friday, just a day after a group of 22 other countries released a letter condemning China's policies in its Xinjiang Uygur Autonomous Region.
Geng pointed out that the 37 countries who signed the letter backing China span Asia, Africa, Latin America and the Middle East, among which many are Muslim-majority nations and member states of the Organization of Islamic (OIC), including Saudi Arabia, Qatar, the UAE, Bahrain, Egypt, Sudan and Pakistan.
"Facts speak louder than words and justice naturally inhabits man's heart," Geng said, reiterating that many of the 37 have envoys who had previously visited Xinjiang and witnessed the real situation in the region.
The ambassadors from the 37 countries said in the letter, "We appreciate China's commitment to openness and transparency. China has invited a number of diplomats, international organizations officials and journalists to Xinjiang to witness the progress of the human rights cause and the outcomes of counterterrorism and deradicalization there." They added that what they saw and heard in Xinjiang completely contradicted to what was reported in some Western media.
"We call on relevant countries to refrain from employing unfounded charges against China based on unconfirmed information before they visit Xinjiang," the envoys concluded.
Geng pointed out that Xinjiang has seen not a single terrorist attack over the past three consecutive years since the adoption of a series of anti-terrorism and de-extremism measures, including the establishment of vocational education and training centers to prevent a small number of people who are seduced by extremism from becoming perpetrators and victims of terrorism.
He said that China is committed to working with all sides to uphold the multilateral mechanisms for protecting human rights strictly under principles of the UN Charter, and to deal with human rights issues in an objective, fair and non-selective manner through constructive dialogue and cooperation.
China strongly opposes the use of the Human Rights Council and other platforms as excuses to interfere in other countries' internal affairs, the spokesperson stressed.