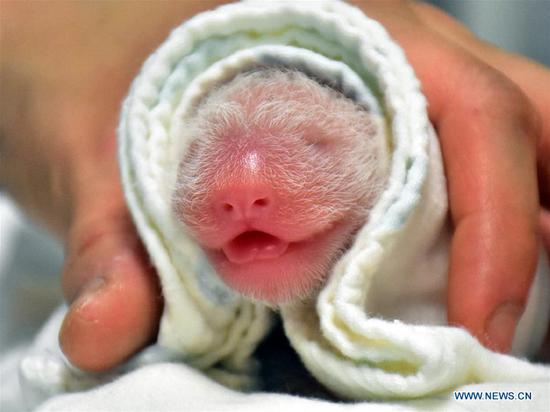 Photo taken on June 28, 2020 shows a newborn giant panda cub delivered by giant panda Yuan Yuan at Taipei Zoo in Taipei, southeast China's Taiwan. Giant panda Yuan Yuan, one of a panda pair from the Chinese mainland, gave birth to her second cub at Taipei Zoo at 1:53 p.m. Sunday, the city zoo said. The panda pair, who arrived in Taipei in December 2008, had their first cub, a female, on July 6, 2013. (Taipei Zoo/Handout via Xinhua)
Taipei Zoo has launched a naming campaign for a female panda cub born at the zoo on June 28.
It is the second cub of giant panda Yuan Yuan, part of the pair gifted to Taiwan by the Chinese mainland in 2008.
Her first cub, born in 2013, was named Yuan Zai. Compared with Yuan Zai, the younger cub is relatively gentle and has been given the nickname Jou Jou.
The name is expected to be announced on August 30.