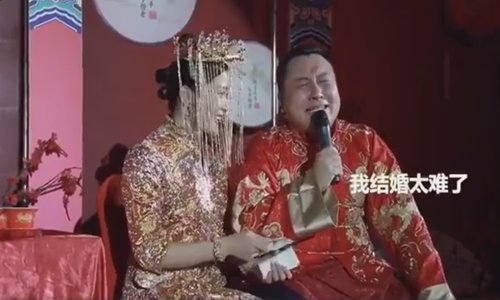 A 30-year-old groom from Fuyang, East China's Anhui Province, bursts into tears at his wedding ceremony after being the best man at seven of his friends' weddings. His new wife helps wipe tears off his face as their guests laugh at the groom's heartfelt emotions. (Screenshot from Sina Weibo)
A groom who had studied abroad for three years, struggled to pass an overly-complicated, fake English listening test before being allowed to collect his bride on their wedding day, in South China's Guangdong Province.
The groom, surrounded by his cheerful groomsmen, was required to listen to a recording that had been given to him by the playful bridesmaids. The recording includes sentences spoken by someone with a heavy accent, according to a video posted by Pear Video on Sina Weibo.
"It sounds like the recording is being played at a 1.5 time normal speed," said the groom to the bridesmaids. Pranks are often played on grooms who, by tradition, are supposed to collect their bride from her family's home before heading to their wedding banquet.
The groom who got two wrong answers was required to give away red packets filled with cash in line with the tradition of "no money, no honey."
The bride and groom are graduates of a foreign studies university in Guangdong Province.