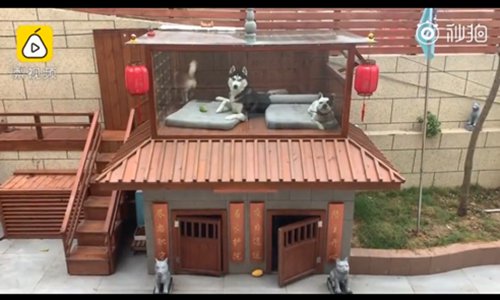 The two-floor villa for dogs. (Photo/Screenshot of video posted by Pear Video)
A man in East China has given new meaning to a dog's life, building his three canines a two-story, air-conditioned dog house that comes with their own pooch pool.
Zhou Xiaoshuai, who live in Xuyi, Jiangsu Province, spent 35,000 yuan ($4,935) on the villa for his Huskie, French Bulldog and Shiba Inu, according to a video posted by Pear Video.
The second floor of the villa contains a large futon for each pet and features a large window looking on to the back of the owner's house several meters away.
Zhou also built a several- meter-long and meter-tall glass tank that poses as a swimming pool for the dogs, who appear in the video to be more than a little anxious to escape. There is also large cabinet that acts as a doggie dyer, in which the canines are put into.
The oddest amenity may be a projector that Zhou uses to project cartoons on a wall in the yard. He says he shows them programs they love.
The video also shows that Zhou used a black marker to write Chinese characters on one dog's head and thick eyebrows another.
Zhou said he didn't take good care of his previous dog because he was so busy, but when he adopted his current dogs, "I decide to try my best to make them happy."
Most Weibo users like the villa for dogs and said that they envy these three dogs.
"It is so important for dogs to have a good owner. Their life is much happier than mine," one of Net users commented on Sina Weibo.
"A villa with a swimming pool is a dream for so many people," another wrote.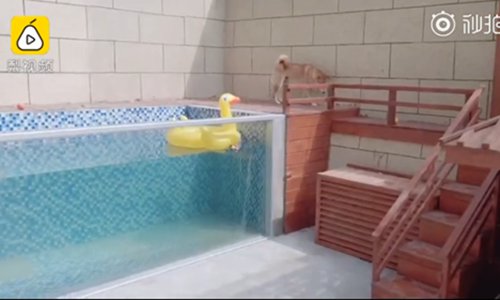 The swimming pool. (Photo/Screenshot of video posted by Pear Video)