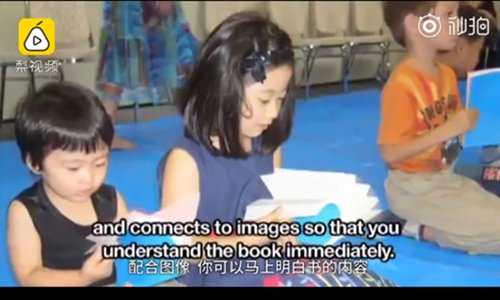 Children are reading books with the quantum wave speed reading method. (Photo/Screenshot of video posted by Pear Video)
A training center is trying to entice parents to enroll their children in a course that promises to teach young pupils to read 20,000 words a minute simply by flipping through the pages of a book.
Teachers at the center call it quantum wave speed reading, which allows children to read the entire book and recall the contents after rapidly flipping through the pages, according to a video posted by Pear Video.
The video shows young students having a speed-reading contest in Beijing with teachers standing beside each child as they repeatedly flash-flip through a textbook.
They claim the students were able to read a book with 100,000 words between one and five minutes.
The video includes apparent testimonials from parents saying their children are using the reading method to complete their reading homework in just a few seconds.
"This child spent two minutes and 23 seconds finishing reading Three Days To See," a teacher said, reading from a message she said was from a parent.
The advertisement said that the speeding reading course contains 72 lessons, and Pear Video didn't mention the cost of the course.
The quantum wave reading method was invented by a Japanese expert who claims that flipping through a book in an unknown language can stimulate the brain to automatically translate it into the child's mother tongue.