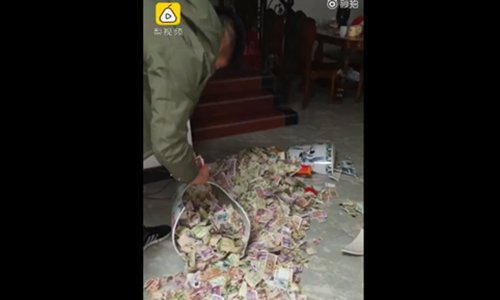 The thousands of small notes scatter on the floor. (Screenshot photo/Pear Video)
A man, who had covertly saved his loose change for more than a decade, had the beans spilled on his secret and coins and cash spewed everywhere when his piggybank - a living-room vase - was accidentally knocked over in Guilin, South China's Guangxi Zhuang Autonomous Region.
The man's wife, surnamed Zhou, told Pear Video it all came crashing down on Tuesday. "I was laying in bed when I heard a thud from the living room, so I rushed out and saw the it was my daughter's dancing that had accidentally broken the vase."
Both mother and daughter were surprised by the thousands of coins and small notes that scattered on the floor.
"Most of them were one, two and five-cent notes. The largest was a 10 yuan ($1.5) note," Zhou said. "I sent messages to my husband and told him to come home to explain it."
The husband said he had been stuffing the vase with his loose pocket change for 13 years.
Zhou said she and her daughter spent the entire morning counting the cash, which came to more than 5,000 yuan.
The man was perturbed that he had lost 13 years of work saving his little fortune.