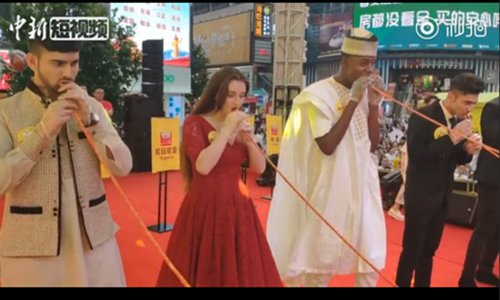 Participants eat long spicy strings. (Source: China News Service)
A man from Turkey won a contest on Friday that required participants to stuff their mouth with a long string of something edible that featured the key ingredient in the cuisine of Changsha, Central China's Hunan Province: hot spices.
Four men and two women from China, Turkey, Nigeria and Saudi Arabia competed on a stage outside a shopping mall to consume a 5.2-meter-long spicy string that was held at the other end by women wearing the traditional costume qipao.
A China News Service' video shows the six contestants stuffing their cheeks with the soft and spicy string of an unknown substance.
Although none of the contestants succeeded in eating the entire length of the snack in the allotted three minutes, the man from Turkey finished less than two seconds over the limit. He was crowned with the "Spice Prince" in loud cheers of onlookers.
Hunan Province is famous for its spicy local cuisine. For generations Hunan residents believe that eating hot peppers protects their health in the humid climate.
Changsha, capital of Hunan with its spicy dishes attracted thousands of visitors from all over the country during the May Day holidays last week.