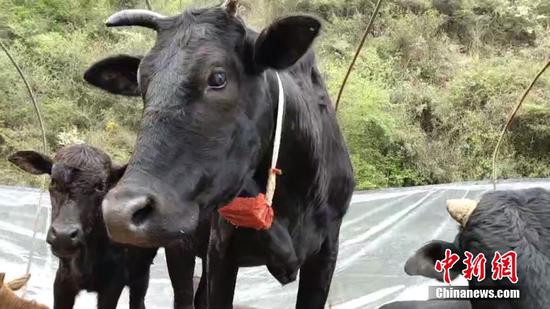 Photo shows the neck of the cattle of Lai Jun attached a fist-sized tracking device. (Photo/China News Service)
A cattle rancher in Southwest China's Guizhou Province, who graduated from university, returned to his remote, mountainous village with some innovative ideas, including putting a GPS tracking device on several of his heifers allowing him to use his cell phone to follow his herd of 130 cattle.
Lai Jun returned to the village of Rongjiang in the highlands Guizhou after graduating with a degree in animal husbandry. His cattle are often left to graze in the isolated hills and valleys and are not always easy to locate. Around the neck of several of his animals he has attached a fist-sized tracking device. From an app on this phone he can see the herd's current location, and monitor how far they have meandered.
"I can see the route the herd has taken on my mobile phone so I can prevent them from going too far away," Lai said.
The cattle often roam in small packs and get separated from each other so Lai has given the leaders of the herd their own GPS.
Many netizens lauded Lai's use of a technology city people take for granted.