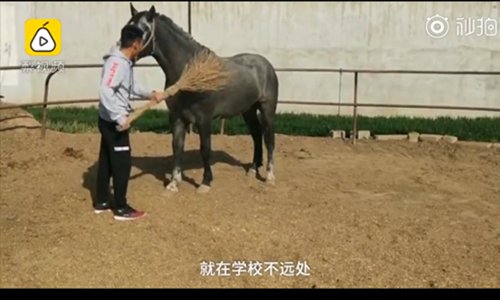 The university student is taking care of his horse. (Screenshot photo/Pear Video)
It's heard of for Chinese parents to quit their jobs and follow their university-bound children to college in a new city hoping to prevent their kids from feeling homesick.
Ma Xuhui, a second-year student in Xi'an, Northwest China's Shaanxi Province, has also brought companions he has known since birth from his hometown: three horses.
"Raising horses is more than a hobby for me. I have always treated horses as my family members. No matter what job I may take in the future, I will bring horses with me," said Ma.
Ma said he was unaccustomed to campus life because he was homesick for his horses, and now boards them at a stable five kilometers from his college campus.
Ma said he has lived with horses all his life and his family has been horse breeders for generations.
Luckily, his teachers helped Ma with administration work at the university, find the stable and connect with the owners.