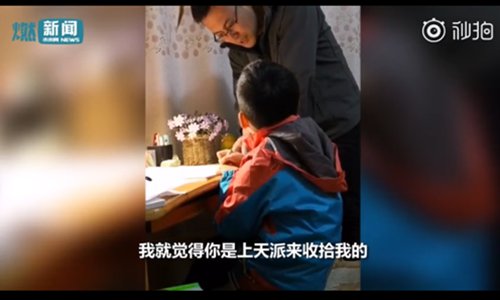 A father tutors his son and gradually loses his patience. (Screenshot photo/Miaopai.com)
In China it's said a child resides in the father's heart and that sentiment seemed obvious in a collage of humorous videos of frustrated dads' trying to help their kids with their homework.
A series of short videos, which were edited together by Miaopai.com and posted on Tuesday, appear to have been surreptitiously shot. The fathers are seen cajoling, encouraging and even mocking their kids who are crouched over their little desks struggling with their homework.
One frustrated father says he feels lucky not to be the mother who was driven mad by her child. "Thank you so much, thank you, thank you, thank you," he says to his son who giggles at his father's sarcasm.
Another short clip shows a child explaining that his teacher had never taught him how to do the math equation that he and his dad were working on.
The father is seriously incredulous and asks: "Your teacher never told you the answer?" The boy answers the question with a question saying "Do they tell you answers to exam questions?" The father chuckles at his boy's smart reply.
A little girl sitting at her pink desk is in tears and orders her father to "not speak to me." He tells her to dry her tears, to which they both agree is a requirement for her to continue to do her homework.
The video has been viewed 2.3million times as of press time.