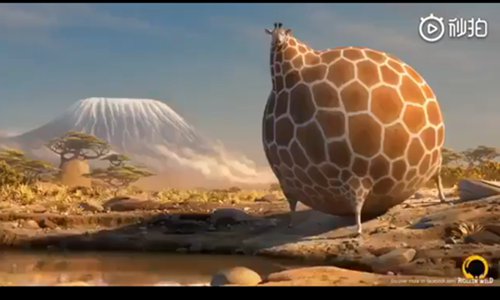 Photo shows what a giraffe looks like if it has no neck. (Screenshot photo/Sina Weibo)
Netizens got a lot of funny comments after posting a series of photoshopped photos under the theme "if animals didn't have necks"on Monday.
Anatomical makeovers were given to a bird, horse, tiger, pig, cat, giraffe, sheep, polar bear, and a wolf, all of whom had their heads sitting directly on their shoulders.
The world's longest-necked animal looked like a portly horse wearing the skin of a giraffe. "Poor giraffe, how could it eat without its long neck," wrote a sympathetic netizen.
A photo of a neck-less cat caught in a pose standing on one paw that makes it look like its strutting its stuff stirred a number of creative attempts at humor.
"The cat looks like a boss of a gang, and it's getting ready to fight someone," a net user wrote.
The photo of a little lamb and a piglet without necks made them appear genetically very close. "The fat piglet doesn't look any different," dryly observed another online commentator.