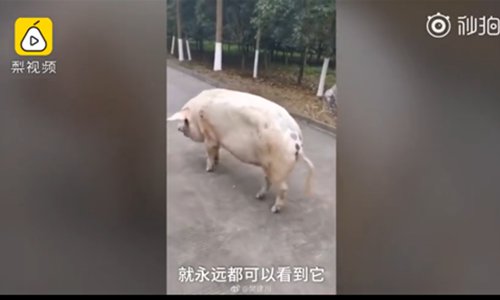 The 12-year-old pig takes a walk staggeringly. (Screenshot photo/Pear Video)
A pig that survived the devastating Wenchuan earthquake in 2008 after being buried in ruins for 36 days is now 12 years old and is still being lovingly cared for.
A video of the aging pig that was named zhujianqiang - meaning tough in the face of disaster, has gone viral. It was just over a year old when it managed to survive the earthquake that killed more than 80,000 people, by eating bits of wood and drinking rainwater.
Fan Jianchuan, a curator of a museum in Chengdu, Southwest China's Sichuan Province, posted the video on Friday, noting the 12-year-old pig is as aged as a person who is more than 90 years old.
The pig's keeper, surnamed Gong, said the pig's advanced years mean it is eating less and it has recently lost 50 kilograms. The poor porcine is also having some skin issues.
"I need to use medicine to protect its skin every day," Gong added.
The director of the museum, surnamed Wei, said the museum might commemorate the pig after it dies by creating a life-sized replica.