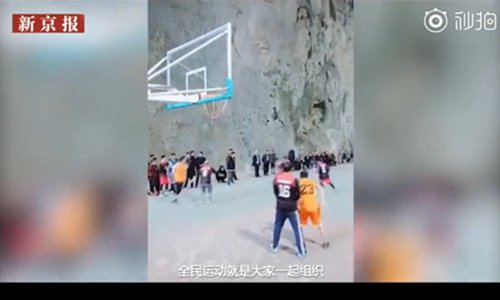 People are playing basketball in a natural cave in Xinchun village, Guizhou Province. (Screenshot photo/The Beijing News)
A giant, natural cave in a village in Southwest China has become a sports complex featuring a basketball court with a perfect climate for players and spectators regardless of the weather.
The cave in Xinchun village, Guizhou Province appears to be four to five stories tall and some 50 meters wide. It was renovated in 2018 creating a level court with a cement floor, multiple rows of bleachers and flood lights. The villagers paid for the renovations and have named it the "Xinchun Village Cave Club."
During competitions the hollering of villagers reverberates around the cave, the Beijing News reported on Saturday.
"We like playing basketball, but the weather is too hot to play outside even during the Spring Festival," said a villager named Liu Yuping, noting that the temperature in cave is warm in winter and cool in summer.