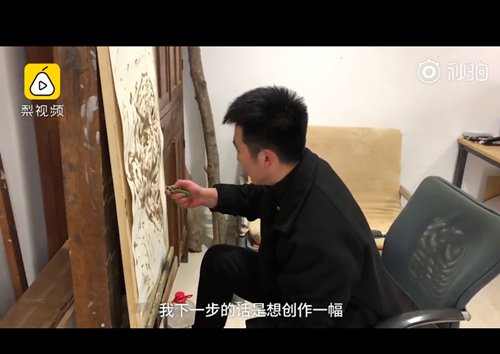 A first-year graduate student uses a cigarette lighter to paint in Jiangxi Province. (Screenshot photo)
A first-year graduate student in East China's Jiangxi Province is an accomplished portrait painter but instead of a paint brush he uses a cigarette lighter to gently scorch an image on paper.
Li Jianghuo, a student in Jiangxi Normal University, says it simply occurred to him that the flame of a lighter can draw the outline of a portrait. A Pear Video shows him gently touching the flame to the paper and using a finger extinguishing embers that get too close to igniting.
"I need to use about eight or nine lighters to draw a complete work that takes me six or seven days. The chance of successfully painting a picture is only 10 percent," Li said on the video.
Liu said that he has drawn 70 or 80 paintings and had applied for a Guinness World Records, although the video didn't explain what category of record he was hoping to achieve.
"I plant to draw a 5-by 8-meter painting," said Liu, who's portrait of Albert Einstein bears a remarkable resemblance to the scientist.
"Disposable lighters are not safe tools, and they are more likely to explode when used for long periods," the fire department in Jiangxi Province said on Weibo.