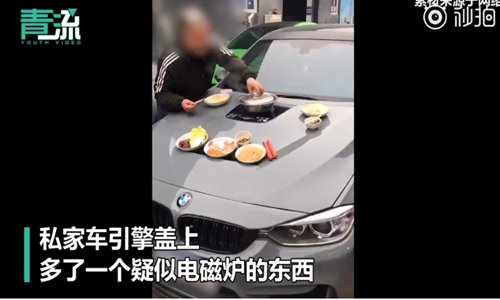 A man cooks hot pot on a car hood. (Screenshot photo)
Video of a man in Southwest China seemingly cooking a steaming hotpot on the hood of a car not only went viral on social media, but also earned him a warning from local traffic police.
The man from Chengdu, Sichuan Province, the home of China's famous spicy hotpot, is seen simmering a pot of soup stock on the hood of a BMW with accompanying dishes of raw foods.
It turns out to have been a promotion and the induction heater was nothing more than a look-a-like sticker attached to the center of the hood, according to a Tik Tok Video circulating online.
"This is exactly what Sichuan cars should be equipped with!" wrote a net user teasing Chengdu people's famous meal.
Some netizens fell for the gag was real and said it was ingenious to make an electric cooker that could be attached to the hood of a car.
The hood in the video was made by a local auto parts factory that makes accessories for vehicles, Red Star News reported on Sunday.
The factory originally wanted to retrofit the hood with a cooker but ended up designing the hood with the sticker since the refit could cause security problems, according to Zhang, an employee from the auto parts factory.
"Now it's just for fun!" said Zhang.
Traffic police in Chengdu warned that refitting a motor vehicle without first registering it with local authorities is forbidden.