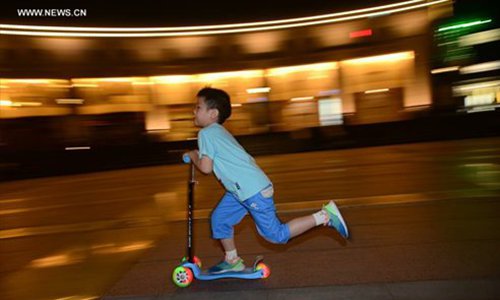 A child plays scooter at Binjiang Park in Hangzhou, capital city of East China's Zhejiang Province. (Xinhua/Yin Dongxun)
People who drive know how frustrating it can be finding a parking space, and now a bunch of pupils at a kindergarten in East China getting an early life-lesson in orderly parking.
A video showing perhaps 100 colorful plastic push scooters - some adorned with pink ribbons and other uniquely customized identification - parked in four orderly rows outside a kindergarten in Hangzhou, Zhejiang Province has gone viral on Chinese social media.
"Scooters are popular with the kids, so I bought one for my grandchild," a grandmother told Pear Video. "He scoots so fast I cannot keep up with him," she said.
The kindergarten even posted a notice warning that no bikes or scooters are allow to park outside the gate, and like many adult drivers the kids found a way around the rule; by parking just beyond the gate.
"This area [where the scooters are parked] doesn't belong to the kindergarten, so we cannot ban parents and kids from parking [their scooters] here," said a teacher of the kindergarten surnamed Hua. "The scooters are toys, and we cannot ban the kids' toys," Hua said.
"It is the kids' turn to fight for a parking spot for their scooters," noted a net user on Sina Weibo.