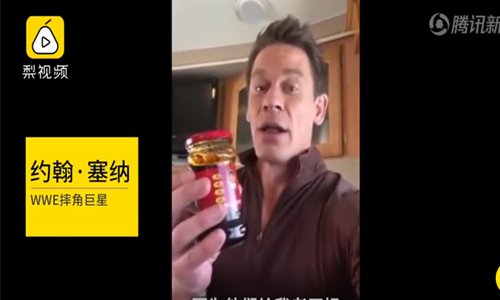 John Cena, actor of Bumblebee in the Transformer series, holds a bottle of Laoganma chili sauce and shouts his love for it in Chinglish. (Screenshot photo)
A video posted on Weibo by an American muscle man and movie star speaking quite fluent Chinese has gone viral not only because of his role in the hit movie Bumblebee, but for his exuberant love for the iconic Chinese chili sauce, Laoganma.
John Cena, who is also a hulking star wrestler with WWE, discovered his love of Laoganma during his months-long stay in China shooting and promoting the latest edition of a Transformer movie.
In the video, a smiling, playful Cena speaks a mix of Putonghua and English into his phone saying the film crew introduced him to Laoganma and he has it every day with his broccoli and other western dishes.
"Zhe shi fei chang hao de chili sauce," says Cena in near perfect "Chinglish" as he extols Laoganma as a "super good" chili sauce. Laoganma is a staple in the pantry of many Chinese homes.
Cena says his testimonial is not a paid endorsement, "Laoganma gen wo mei guanxi" (Laoganma and I have no connection) and the chili sauce has helped him to "embrace zhongguo wenhua" (Chinese culture).
Cena says he has bought three cases of Laoganma that he plans to take home.
Many Sina Weibo users expressed their admiration of Cena and Laoganma's luck. "The brand has such a handsome spokesperson and received such great free advertising," a Sina Weibo user wrote.