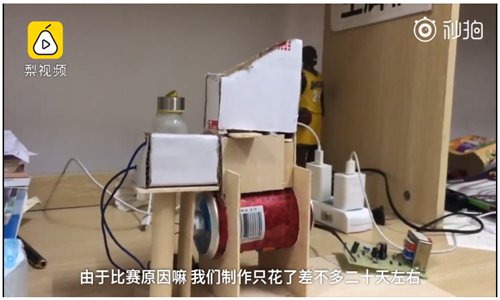 Zhang Xianxi and his friend make an automatic sunflower seed cracker, which helps people to become lazy. (Screenshot photo)
A Chinese university student has won a science award for his tiny tabletop "lazy person" invention that automatically de-shells sunflower seeds, which in China are often eaten one at a time at high speed and can leave an aficionado with a grooved front tooth and a mess on the floor.
Sophomore Zhang Xianxi at Jiangxi Agriculture University in East China made the sunflower seed auto-cracker machine with his friend.
The tiny machine uses the same principle as washing machine drum. A small handful of sunflower seeds are dropped in the top of the machine and after a couple of whirls with small motor, the empty shells slide out one side and the nuts out another.
The two do-it-yourselfers bought the small motor online, but the other materials were things they simply recycled, including a soda can and a small cardboard box.
Zhang says they spent little more than 20 yuan ($2.70) on their project.
"The idea of creating this machine was to protect people's hands from getting cold in the winter and to help people become lazy," said Zhang, who named his creation the "lazy person's cracking machine."
His invention won first prize at his school's "Daily Innovation" competition, but the work was roasted online by many Chinese, who said a large part of the pleasure of munching on a bag of sunflower seeds is speed-eating them one at a time.